TJIN Edition Genesis is the Last Hyundai We Will See Before SEMA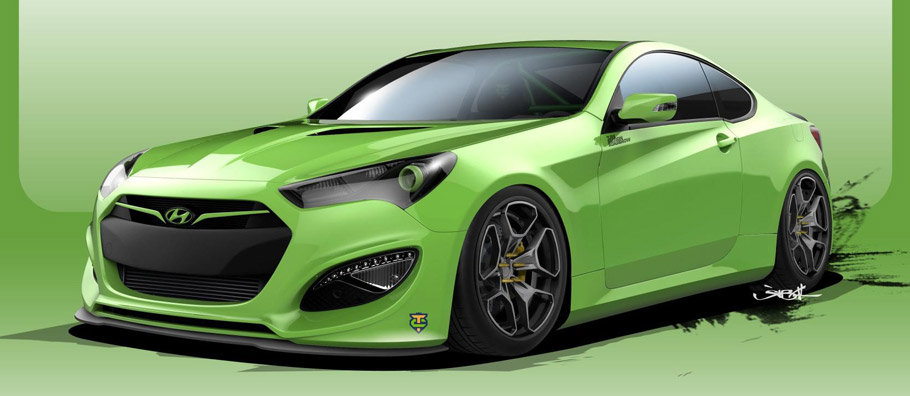 TJIN Edition Hyundai Genesis is rounding out the teaser sketches released by the brand before the official start of the SEMA show in November. Behind this project are the tuners at TJIN and although this is their first official Hyundai vehicle built for SEMA, it promises to be one of the best to see at the event. The experts have been inspired by underground racing, so we are definitely looking forward to seeing it at in the beginning of next week when the show starts.
What do we know about the TJIN's Genesis Coupe so far? First, since it is this particular model, it will be powered by Hyundai's 3.8-liter "Lambda" V6 engine. The unit however does not produce the standard output number, but instead due to Vortech supercharger kit built by the power gurus from Bisimoto Engineering, it now pumps out a lot more.
SEE ALSO: John Pangilinan Unites with Hyundai For Special Tucson Adventuremobile 
But before speaking about a specific number, we should also tell you that car's horsepower was uprated via free-flowing exhaust system, Vortech front mount intercooler and blow-off valve. The end result: more than 500 hp (398 kW).
Next, to super-strength of the car is supported by the addition of new Rotiform 19-inch 3-piece HUR wheels. Behind them TJIN added custom Baer x CBA Extreme Plus brake calipers and have wrapped them in Falklen FK345 tires.
This Hyundai also sits lower thanks to KW coilovers. This is why the car also appears to have more aggressive appearance. Unique Fabrication delivered custom front lip, rear spoiler and custom trunk lid. At last, the car was finished in a custom Kylie Tjin Axalta green paint job. More details about this project you can read in the table below. Now you can't wait until the show, can you? Just like us.
TJIN Edition Hyundai Genesis in Details:
POWERTRAIN MODIFICATIONS
CHASSIS/SUSPENSION MODIFICATIONS
EXTERIOR MODIFICATIONS
INTERIOR MODIFICATIONS

Bisimoto Engineering Supercharger Kit with Vortech V3 Supercharger and Bisimoto Engineering Tune
Bisimoto Exhaust System
Vortech Front Mount Intercooler
Vortech Blow-Off Valve
Optima Battery

KW Coilovers
Custom Baer x CBA Extreme Plus Calipers (front and rear)
Baer Performance Brake Pads
Baer 14-in. Cross-Drilled Rotors
Baer Steel Brake Lines
Downstar Bolts and Lug Nuts
Rotiform 19-in. 3-Piece HUR Wheels
Falken AZENIS FK453 Tires

Custom Kylie Tjin Axalta Green Paint Job
Unique Fabrication Front Lip
Unique Fabrication Metal Trunk Lid
Unique Fabrication Rear Wing
LightWurkz Headlights
Safety 1st LED Lighting

Unique Fabrication Roll Cage
Custom Alea Leather Interior
Source: Hyundai