G-POWER Work on a BMW 1M Coupe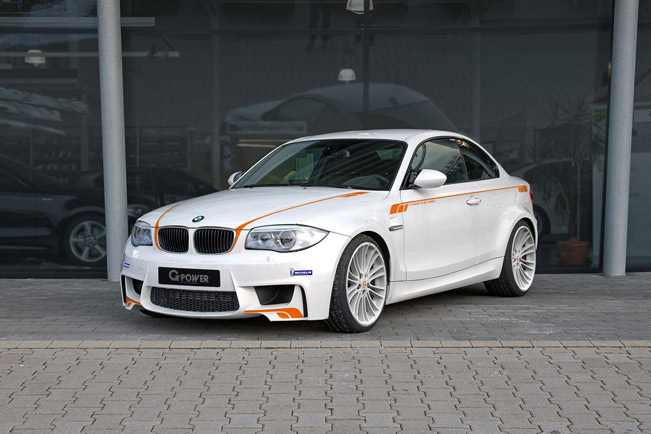 A substantial upgrade for the BMW 1M Coupe is now available at G-Power central. There's an increase in power, there's a suspension tweak and there's some eye candy.
The main point here is that now a 1M Coupe is more powerful than it's bigger brother – the M3. That's 435 horsepower and 590 Newton meters of torque (15 hp and 195 Nm more than the M3). That immediately takes us to the question of speed. The G-Power 1M eats up 100 km/h in just 4.5 seconds. The top speed has been upped to 300 km/h.
To achieve this, the guys at G-Power have had to optimize the flow with some downpipes to reduce the exhaust gas temperature. Further back, there's a completely new exhaust system that's 20 kg lighter than a stock one would be mainly because the titanium material used for it. The tail pipes also come in carbon. At the front there's a larger intercooler and a special G-Power software (Bi-Tronic V3) that takes into account the newfound oily bits.
Suspension-wise, G-Power have worked hard to match the performance. A GM1-RS height-adjustable coil-over kit ensure overall stability. Then there are the 20-inch G-Power Silverstone wheels wrapped in Michelin tires with 255/30 ZR 20 and 295/25 ZR 20 dimensions front and rear respectively. From behind the double spokes of the front alloys, 396 mm brake discs peak out which get clamped by six-cylinder piston calipers whenever one stomps on the brake pedal.
Source: G-Power