G-POWER BMW M3 Comes with Tremendous Torque Results!

2015 G-POWER BMW M3 F80 can pump out 560 horsepower and 720 Newton meters of torque. The reason for this is that the famous M3 series have received in-house developed Bi-Tronik 2 V2 remap. The difference here is that unlike generic remaps, this one is customized for the original control unit in the particular vehicle on the pictures below.
Bi-Tronik 2 V2 Package for the G-POWER BMW M3
What does this mean? The BMW M3 can now actually achieve maximum all-round performance enhancement. As a matter of fact, this is the hardest way to implement such upgrade. The reason for this is that one has to crack the factory 128-bit encryption first.
SEE ALSO: G-Power Releases the Ultimate BMW M6 Capable of 1001 Horses! 
The experts at G-POWER had obviously no hindrances in applying this method, because they have achieved great results. In addition, to prove that everything runs smoothly, they have made extensive test runs on the dyno and real world testing on the autobahns and country roads. The end effect is visible via the improved performance and outstanding drivability of the Bi-Tronik 2 V2 conversion.
G-POWER BMW M3 Exterior Tuning

Furthermore this G-POWEER BMW M3 also received some additional tuning improvements which support the Bi-Tronik 2 V2 package and perfectly complement it. Precisely, the tuners installed downpipes that substantially reduce the exhaust back pressure.
In fact, the in-house made titanium exhaust system features four 90-millimeter tailpipes, but future customers can opt for titanium or carbon ones. It also includes a sound flap in the rear silencer with remote control regulation. Because of the lightweight materials, car's weight dropped by up to 7.1 kg.
Having a reduced unsprung mass means only a need of handling improvement. Hence, G-POWER added to this BMW M3 21-inch HURRICANE RR alloys and fitted them with 245/30ZR21 and 295/25ZR21 Michelin tires.
The wheels are actually made of ultra-light aircraft-grade aluminium. They are available in Jet Black, Gun Metal Grey and Stardust Silver, and in this case come in the aforementioned grey color.
G-POWER BMW M3 Performance Figures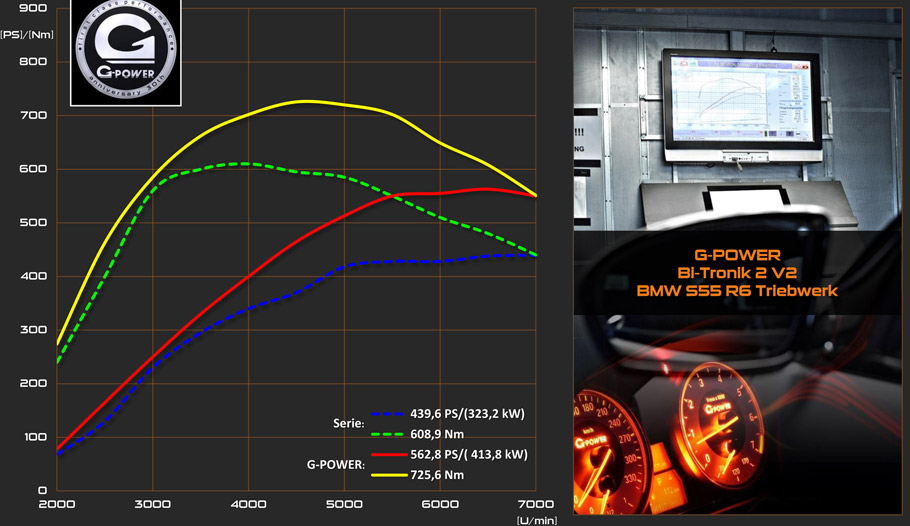 The output of this car is now 560 hp (412 Nm) strong at 6,500 rpm and can generate 720 Nm (531 lb-ft) of optimum torque at 4,500 rpm. This means additional 129 hp (95 kW) and 170 Nm (125 lb-ft).
This enhancement catapults the Bavarian super car to 100km/h from a standing start in just 3.8 seconds. The Vmax have been released from its factory limitation and now reaches 310km/h.
Source: G-Power