G-Power BMW M3 E92 Hurricane 337 Edition [video]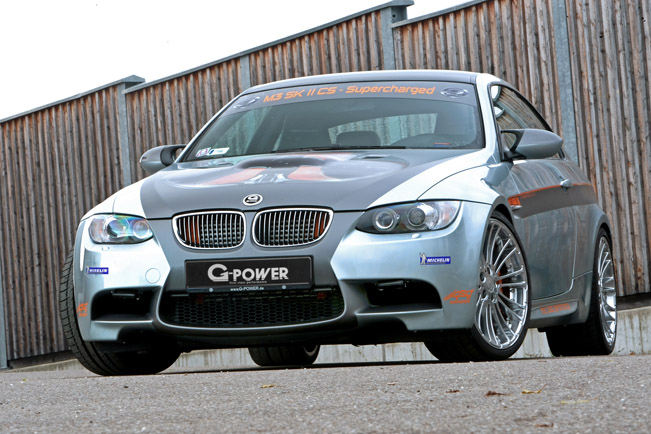 G-Power has published a video with their latest project based on BMW M3 E92.  The G-Power M3 SK II CS Hurricane 337 Edition managed to hit a top speed of 337.6 km/h (210 mph).
The updated M3 by G-Power is powered by a 4.6 liter supercharged V8 – 651HP (452 kW) at 8,100RPM and 595Nm (441 lb-ft) of torque at 5,900RPM. 0-200 km/h in 12.2 seconds and a top speed of over 337 km/h (210 mph). The tuned sports car also comes with a full titanium exhaust system with racing catalytic converters.
G-Power will produce only 30 units of 337 Edition model with pricing starting from €9,856. The titanium exhaust system is €4,542 and the coilover suspension is €2,445. The tuning company also offers braking system for €8,034 for the front and €5,634 for the rear axle and the price for the 20'' G-POWER wheel set fitted with Michelin Pilot Sport tyres is €4,474.
G-POWER M3 SK II CS "HURRICANE 337 Edition":
• 615 hp / 452 kW at 8.100 rpm (+ 195 hp / 143 kW) • 595 Nm at 5.900 rpm (+ 195 Nm) • V-max: > 337 km/h • 0-200 km/h: 12,2s • G-POWER Supercharger System M3 V8 SK II CS "HURRICANE 337 Edition" • G-POWER G3M CLUBSPORT coilover suspension • G-POWER Breaking System for front and rear axle • 20'' G-POWER wheel set SILVERSTONE DIAMOND
Source: G-Power