G-Power Hurricane BMW M5 RRs
Back in 2010, G-Power created this monster of a thing. It had 800 hp, 780 Nm and held a high-speed record of 372 km/h which was previously owned again by G-Power. Apparently, a great interest has boomed from this and today G-Power are delivering their 100th BMW Hurricane M5 RR. So why not make it special? They have – it's the Hurricane M5 RRs with even more power and spunk.
Based on the E60, this performance beast harbors a BI-Kompressor "Sporty Drive" system. In other words, two superchargers that are now even bigger than before – a move from ASA T1-313 to ASA T1-316 (clearly visible with that orange cover over them). For the optimum performance, further down the line, that compressed air is efficiently cooled by an intercooler prior to ignition. But it's not just the lungs that had undergone an operation. The heart has been tweaked as well: All ten pistons (good old E60s were still produced with V10 engines) have been replaced with lighter, more durable and more balanced MAHLE ones. That includes the connecting rods and the piston pins – all heavy duty stuff. Add a little engine management fiddling and you get an end result of 830 hp that get conjured up within the 7,500 and 8,000 rpm range.
With the help of some peripherals like the G-POWER SPEEDFLOW exhaust system that incorporates two, back-pressure reducing racing catalysts and the buffed fuel injectors and pump, the Hurricane RRs is said to reach the 100 km/h threshold in just 4.3 seconds. By the time the stopwatch reaches 9.1, this light blue beast would be doing 200 km/h. Want to hear another bonkers claim? 300 km/h for 25,2 seconds from a standstill!
It should be good on the curves as well – a G-Power RS coilover suspension with nine settings for the compression and rebound can achieve miracles if one knows how to use it. Then there are the brakes which are expected to comply with the new found power – six-piston calipers at the front gripping 396 mm steel brake disks. At the back, you get the slightly less impressive 380 mm ones operated by four-piston calipers. You can get the carbon-ceramic set which will be significantly more expensive but essentially non-fading alternative.
It's not all stop and go with this jubilee M5 though. The stainless steel muffler with deeptone technology and four 83 mm tail pipes will provide the much needed thunder to shatter glass. The alloy wheels, wrapped in Michelin Pilot Sport tires, are equally impressive with their ten double-spoke design. Think in numbers: 255/35 ZR19 tires at the front and 305/30 ZR19 ones at the back.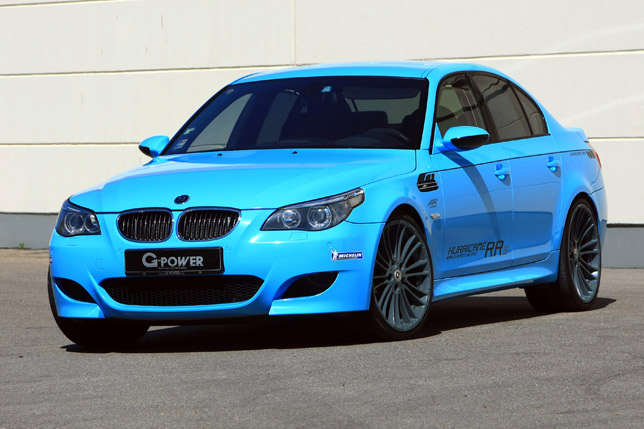 Source: G-Power