G-Power Introduces the Mighty BMW M6 F06 Gran Coupe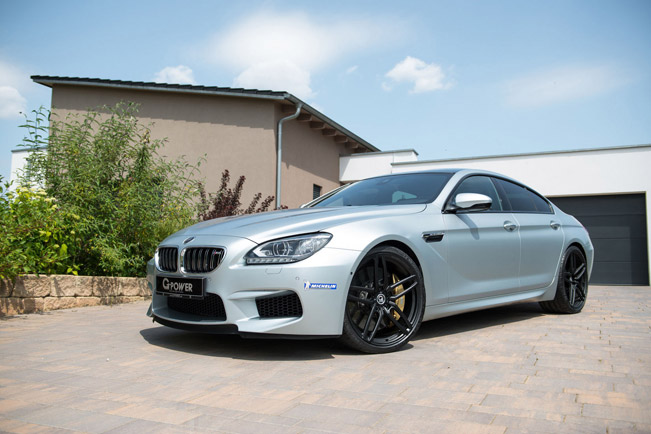 G-Power BMW M6 F06 Gran Coupe is the latest addition in the garage of the tuners. The biggest change they have made is via their G-Power Bi-Tronik, which is increasing the power output of the M6 Gran Coupe to the staggering 740 hp (544 kW) and 975 Nm (720 lb-ft) of torque. This means a power enhancement of 150 hp and 210 Nm of torque. G-Power uses individual solution for the engine thanks to which the amount of fuel and the ignition timing were modified.
Precisely, these modifications were made by a micro-processor that is patched in before the standard BMW ECU. In addition, ASA supercharger was used for the supercharger systems and the exhaust system has been substantially reworked and now feature cover catalysts replacement pipes and a Titanium exhaust system. The deep and throaty sound is what also complements the addition of this exhaust.
The increase on power also results in faster acceleration time. The figure from stand still to 200 km/h is now just 10,5 seconds and the top speed is more than 300 km/h. In terms of suspension, first to notice are the 21 inch G-Power Hurricane RR forged wheels, wrapped with Michelin tyres in the dimensions 255/30 ZR 21 and 295/25 ZR 21 for the front and rear, respectively. The handling is further improved via the continuously height-adjustable coil-over suspension GM6-RS with nine selectable settings each for bound and rebound.
Furthermore, there has been also added a new G-Power Braking System with six brake pistons and 420 mm brake disc diameter for the front axle. Additionally, the ceramic braking system reduces the unsprung mass by 50% percent, compared to a system with steel brake discs.
The interior of this BMW was also reworked entirely and now features exclusive accessories. Take as an example the ergonomically formed sports steering wheel or instruments in G-Power design, the noble carbon-leather fitments. The tuners have covered the plastic surfaces of the standard production M6 cockpit with leather or Alcantara. The visual highlights inside are the illuminated G-Power logos spread throughout the interior.
The new interior is rounded out by the addition of an exclusive multimedia entertainment system which includes audio system, electric powered iPads in the rear of the front seats, a lowerable main monitor from the headlining and an Apple iMac.
Source: G-Power