G-Power Releases M6 Convertible Producing 740 hp and 975 Nm

G-Power BMW M6 F12 Convertible is the next project for the day presented by the talented tuners at G-Power. Just like the X5, the M6 Convertible received power uprating and brand new wheels. Oh, let's not forget the new lightweight exhaust system. Another thing these cars share in common is that, they can be both ordered from G-Power online web shop. But let's get into details.
Bi-Tronik 2
After the power enhancement, the M6 F12 can produce up to 740 hp (544 kW) and 975 Nm (720 kW) of torque. This is a substantial increase was achieved via remapping of the factory ECU with Bi-Tronik 2. Thanks to it, the amount of fuel and the ignition timing are changed regarding the increased boost level. Bi-Tronik 2 has another benefit too: it allows wishes of the customer to be literally written into the software and applied onto the engine.
SEE ALSO: G-Power and the Brand New BMW X5 M F85
But there are also some additional modifications to the M6's hardware, which are required to help the ECU remapping achieve the 740 hp. First, it is important to minimize the performance debilitating backpressure of the standard exhaust system.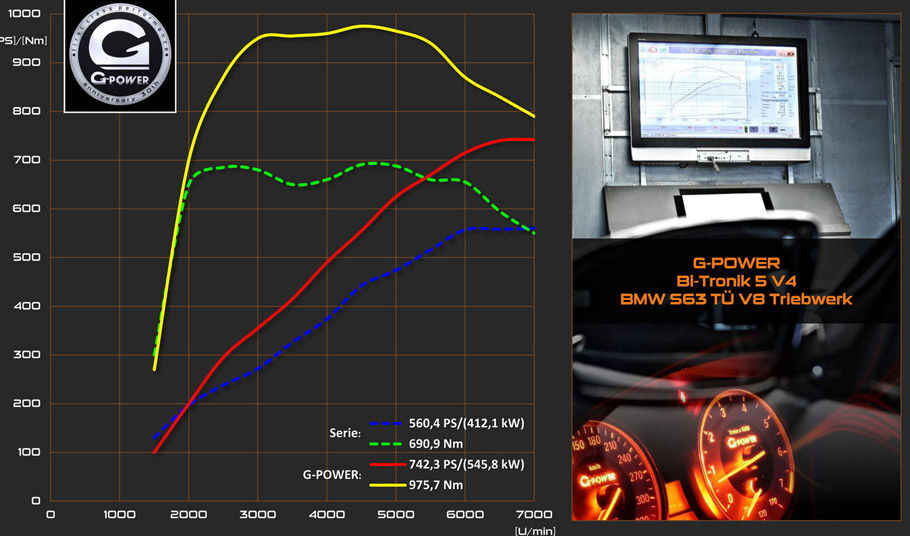 To make this happen, G-POWER installed a first step flow optimized Downpipes that are offered either completely without catalytic converts or 200-cell racing-catalysts. Thanks to this modification, called stage V2 of the Bi-Tronik, G-POWER achieved 700hp. The stage V3 of the tuning is actually the addition of a Titanium exhaust system. It includes Titanium 4-tip sport silencer and Titanium link pipes with resonators starting from the Downpipe and its function is not only the throaty sound, but also the 12 kg weight savings. By the way, the exhaust is offered with Titanium or Carbon Tailpipes with a diameter of 100 mm each.
If you wonder about the top speed, it was increased too. It is now more than 300 km/h thanks to the G-Power V-MAX increase. Another important number is the 0-200 km/h acceleration time, which has been rated at 10.7 seconds, and we find that pretty impressive.
Wheels & Tires
At last, we should also say some words about the new HURRICANE RR wheels this BMW M6 received. They are sized at 21-inches and are fitted with 255/30ZR21 and 295/25ZR21 Michelin tyres, front and rear respectively. They color is Jet Black, but they can be also specified in Gun Metal Grey and Stardust Silver.
Source: G-Power