G-POWER X6 M TYPHOON S
G-Power are famous with their monster upgrades. This time, the tuning company has revealed a performance package for BMW X6 M.
The power kit includes a re-mapped ECU, no top speed limiter, a bespoke titanium stainless steel exhaust system, sports catalytic converters, a flow-optimized G-POWER exhaust manifold and optimized ducting.
The result is staggering, the 4.4 liter twin-turbo V8 is boosted to 725PS at 6000RPM and 890Nm at just 1500RPM.  If the customers upgrade the transmission, the tuning company also offers maximum output of 1 000Nm.
The acceleration – 0 to 100 km/h in 4.2 seconds and Vmax of 300 km/h.
The styling package includes a wide body kit, featuring new front and rear aprons, a rear diffuser, side skirts, and a roof spoiler. If desired, G-Power also offers with a carbon fiber bonnet, a central Venturi-effect engine bay vent and two lateral ABS grilles for stationary ventilation.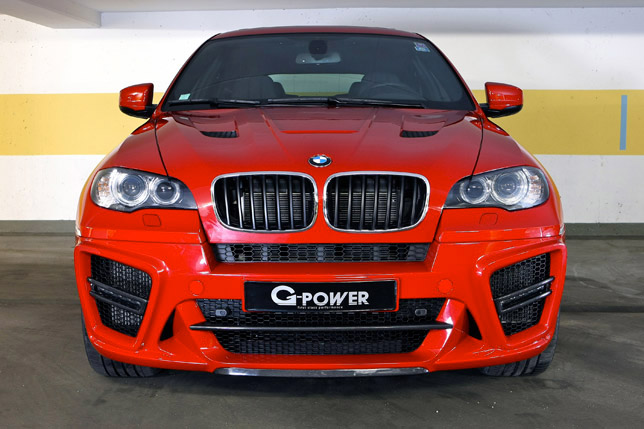 G-POWER X6 M TYPHOON S
• 725 hp / 533 KW @ 6,000 r/min (+ 170 hp / 125 kW) • 890 Nm from 1,500 r/min (+ 210 Nm) • Top speed > 300 km/h • 0-100 km/h: 4.2s • TYPHOON S aerodynamic package: starts at € 6,990.00 (net) • G-POWER performance increase for BMW X6 M: starts at € 13,526.05 (net)
Source: G-Power