Galpin Auto Sports Reveals SEMA-bound Ford Mustang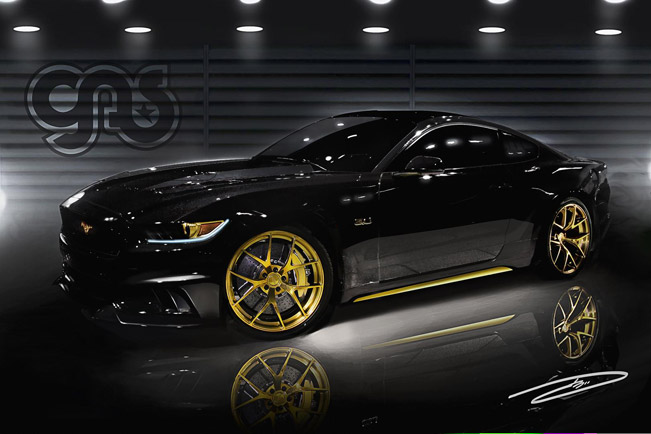 The SEMA-bound Galpin Auto Sports Ford Mustang is a special vehicle which comes to celebrate the golden anniversary of the production Mustang. The modified pony car features a special gold theme, enhanced engine, custom LEDs and other intricate tweaks. Galpin Auto Sports (GAS) is the tuning arm of the largest Ford dealer in the United States. 2015 GAS Mustang embodies a golden anniversary design philosophy and will be of course premiered at the Specialty Equipment Market Association (SEMA) show.
At first the tuners gave a facelift to the iconic model via a new front fascia, which was restyled to match the three strakes found in the factory headlights. In details, the new headlights now integrate LED turn signals and turn on in sequence to match the rear turn signals. In addition, there have been also installed a carbon fiber front splitter and rocker panels as well as a more aggressive rear diffuser.
Under the hood of this Mustang is positioned the Whipple supercharger, which has been custom powder-coated to appear gold.  It sits atop the 5.0-liter Coyote V8 engine. The integrated into the hood glass window has the purpose to show off the engine. More importantly, these modifications are not only a cosmetic change, but also signify a boost in the power output. The engine generates the astounding 725 horsepower (533 kW).
Next, the car is also equipped with suspension components delivered by Steeda and new exhaust by Magnaflow. GAS also reveal that with this black and gold idea, they wanted to get the color as close to 24-carat gold as possible. Speaking of which, this GAS Mustang will be running on 20-inch wheels finished in gold. In the same color are also the side sills, brake calipers and badging.
Inside, the same black-gold theme can be found on the entire range of elements which were previously chrome or metallic. Recaro seats are covered with a fabric finished in black and gold, and the headliner is black microsuede. And if you think that the exterior is finished in paint that appears black, then you will be surprised to see that it is actually filled with gold metallic flecks.
Source: Galpin Auto Sports