GeigerCars.de Cadillac Escalade
A special occasion warrants a special means of transportation: For the Academy Awards Ceremony 2007 GeigerCars.de built the exclusive STAR FORCE VIP shuttle, based on the latest Cadillac Escalade ESV. The STAR FORCE was commissioned by the German TV network ProSieben.
The American SUV was completely reworked by the tuning specialists from GeigerCars.de. The 403-hp / 296-kW 6.2-liter V8 engine gains an additional 20 horsepower with the GeigerCars.de stainless-steel high-performance exhaust system.
On the outside the upgraded Cadillac is an instant eye catcher with its large 10Jx24 chrome wheels and size 305/35 ZR 24 Pirelli Scorpion tires. In addition the ride height was lowered by 100 millimeters and the body was painted in a special ProSieben STAR FORCE color scheme. Bright STAR FORCE LED stars adorn the exclusive VIP shuttle at night. The front received a new and even more commanding chrome grille. But that's not all: ProSieben TV host Annemarie Warnkross served as the model for the imposing gold-plated hood ornament.
The interior also features an especially exclusive design: The red and black leather seats with STAR FORCE logo are custom-made by GeigerCars.de as is the rear partition wall with retractable glass pane. A Toshiba LCD projector can beam the images of either digital TV broadcasts or a DVD onto the glass pane coated with a special holographic projection surface foil. The accompanying sound comes from a Hi-Fi system with more than 1,000 watts of power and loudspeakers and subwoofer custom-calibrated to the Escalade's interior.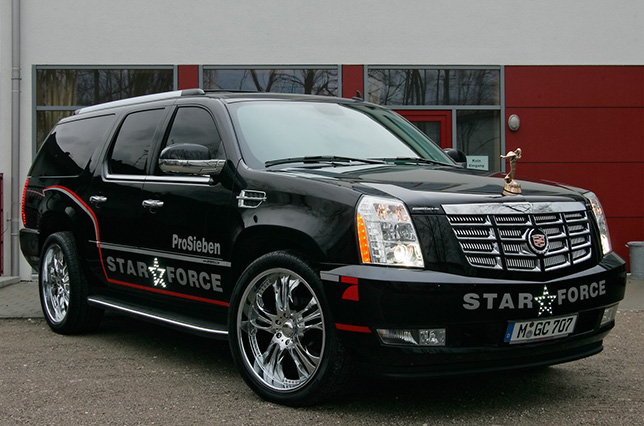 To provide the two rear passengers with maximum of legroom the body specialists from GeigerCars.de modified the floorpan of the Cadillac. The seats are upholstered with the finest leather sporting the ProSieben colors red and black, and offer maximum seating comfort. The sideboard mounted behind the partition wall comes with an innovative feature: At the push of a button it glides rearward to present the rear occupants with drinks or appetizers.
The GeigerCars.de designers further equipped the black 4x4 with a gigantic Webasto power folding roof over the rear seats to let the VIP guests enjoy the California sun.
Immediately after completion the GeigerCars.de STAR FORCE VIP shuttle was flown to Los Angeles for the Academy Awards Ceremony on February 25, 2007. There ProSieben will use it for its coverage of the world's most important motion picture award.