GeigerCars Powers Up Dodge Ram 1500 and the Jeep Grand Cherokee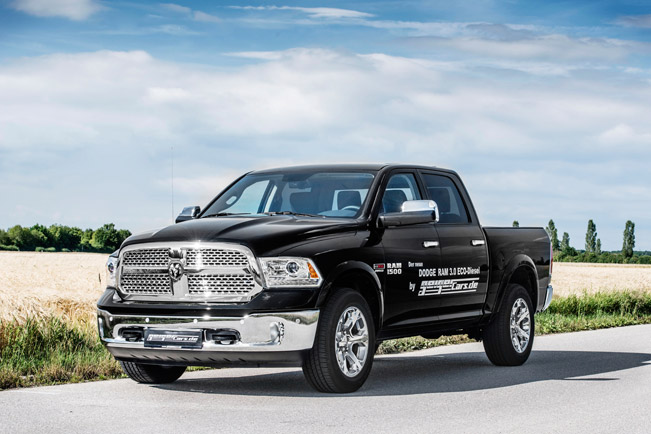 GeigerCars has boosted the power of the Dodge Ram 1500 and the Jeep Grand Cherokee 3.0 CRD. Both US-cars received performance increase of 40 hp and 62 Nm.  The production "numbers" of the 3.0-litre V6 turbo diesel engine are 241 hp (177 kW) and 569 Nm (420 lb-ft) in the Ram, and 250 hp (184 kW) and 570 Nm (421 lb-ft) in the Jeep.
After the software optimization of the 24-valve engine, these numbers increase to 281 hp (207 kW) and 631 Nm (465 lb-ft), and 290 hp (213 kW) and 632 Nm (466 lb-ft), respectively. Moreover, in the Jeep Grand Cherokee the maximum speed was increased from 202 to 223 km/h, while the Vmax of the powerful Dodge Ram 1500 was increased to 190 km/h.
Except for the power tuning, the Dodge Ram has also received some styling refinements. The leather interior is in brown and tan color scheme. A folding armrest placed at the middle of the backseat along with a pair of cup holders. There are also two cup holders on the floorboard.
An 8.4 inch touchscreen display has all the navigation controls. The rear view camera position is next to the handle of the tailgate which allows closer position to the trailer hitch. A few other safety items, like parking sensors positioned all along the rear bumper, along with duo exhaust tips.
Dodge RAM 1500 3.0 l V6 EcoDiesel:
Motor: V6-turbo diesel
Displacement: 2,988 ccm
Output: 177 kW (241 hp)
Torque: 569 Nm
Gear: 8-gear automatic transmission
Consumption combined: 10.2 l (diesel)
Co2 combined 267 g/km
Pollutant class: G
Jeep Grand Cherokee 3.0 CRD Overland
Motor: V6-turbo diesel
Displacement: 2,988 ccm
Output: 184 kW (250 hp)
Torque: 570 Nm
Gear: 8-gear automatic transmission
Consumption combined: 7.5 l (diesel)
Co2 combined 198 g/km
Pollutant class: G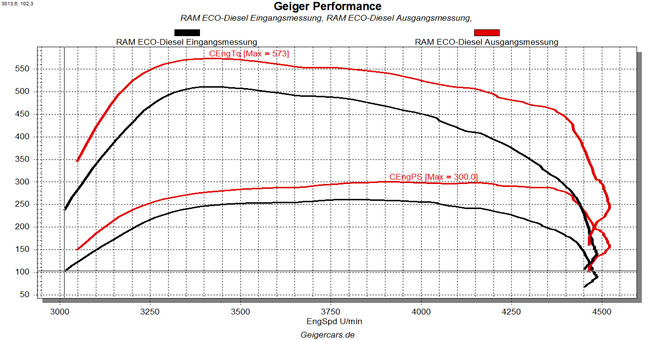 Source: GeigerCars