Gemballa Porsche Panamera Turbo GTP 700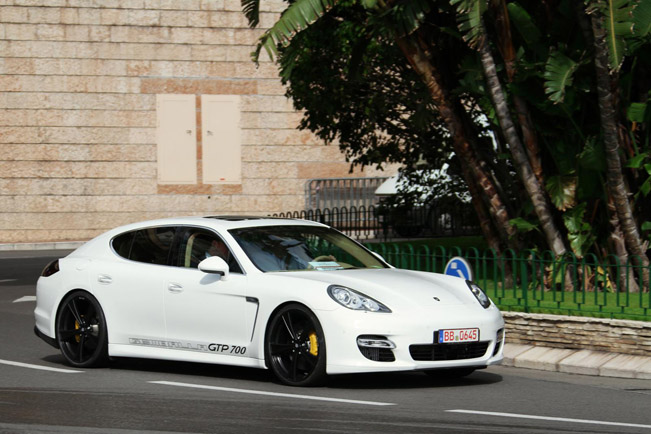 Gemballa will introduce their latest project at the 2013 Essen Motor Show. It is called GTP 700 and it is based on the recently facelifted Porsche Panamera Turbo. As you may suggest the number is the amount of HP under the bonnet, but the stylish 4-door coupe comes with more than that.
The 4.8 liter twin-turbo V8 originally produces 520HP (382 kW) and 700Nm (516 lb-ft) of torque. With the new set-up, the engine delivers 700HP (515 kW) and 900Nm of torque – an increase of 180HP and 200Nm. 0-100 km/h in 3.2 seconds and a top speed of over 330 km/h (205 mph).
The exterior comes with aerodynamics package including modified front and rear bumpers. There are also tinted rear lights and some vinyl decals. The tuning company offers different alloy wheels fitted with proper performance tires.
The interior can be customized with carbon fiber elements, leather and Alcantara in any desired color.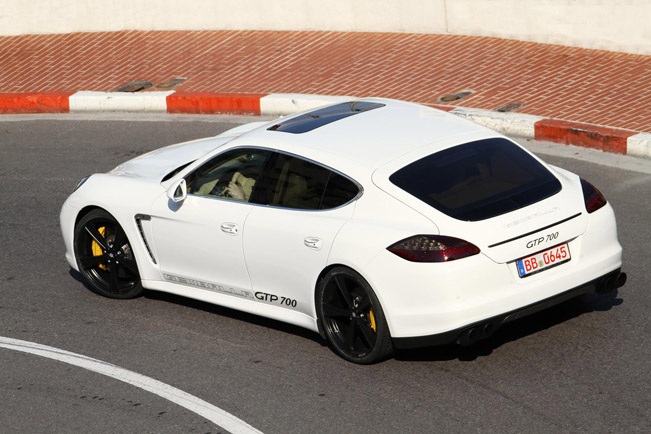 Source: Gemballa