JE Design Porsche Panamera 970
JE Design have been working on a Porsche recently and this is the end result – the JE Design Panamera 970. Judging by the pictures, we can't decide whether they have made an ugly car even uglier or not. We do know however, that the power is up and when thundering down the road, bystanders do not pay attention to small details like aesthetics, right?
Performance upgrades for both, the Panamera Diesel and Panamera Turbo are available. The former is rather subtle but the one for the petrol restores the balance. The 3.0-liter, 250 horsepower diesel gets an ECU tweak that translates into an additional package of ponies (50 more) and some more torque (from 550 Nm to 650 Nm). That newfound power sheds .2 seconds off the 0 to 60 time which now stands at 6.5 seconds. On the flip side, the 4.8 bi-turbo petrol Panamera already has a dramatically more powerful engine – 500 horsepower in total to be exact. Add the ECU upgrade to that and you get 600. Torque is up from 700 to 850 Nm and the result is a 3.8 second 60 mph sprint. It all sounds like engine abuse but actually the packages are TUV certified and the owners get a one-year warranty with the option to extend it even further.
To match the performance, some aerodynamic OEM bits and pieces have been bolted on the outside. A new front bumper now channels more airflow into the intercooler and has some rather ostentatious LED daytime running lights. The sideskirts have a strange hollow design that culminates in rear air inlets. At the back, a rear spoiler is there to stay while the rear bumper has an integrated diffuser and an air outlet. All fits perfectly with the standard exhaust system but probably it wouldn't hurt anyone to go with the JE Design cat-back exhaust system that has controllable valves on the petrol Panamera. Each of the four oval pipes at the back end are 100 mm in diameter.
The standard "Porsche Active Suspension Management" system tells the dampers how to behave has been preserved, but now an air-suspension from JE Design hunkers down the Panamera even lower. From 20 to 30 mm lower to be more precise. At the very least. with that lowered stance, the "Pandora" 9 and 10,5 x 22 wheels fill the wheel arches even more impressively. Tires, front and back - 265/295 wide and 30/25 thin, complete the overall JE Design feel.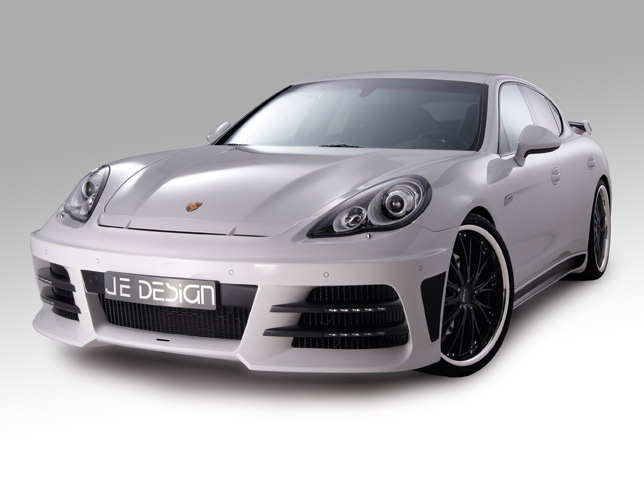 Source: JE Design