Geneva Motor Show: 2014 Infiniti Q50 [VIDEO]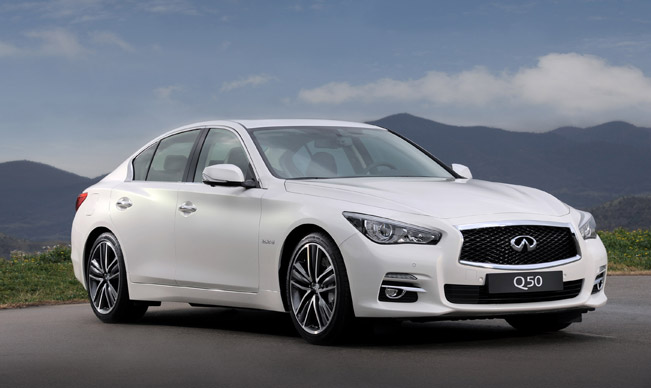 2014 Infiniti Q50 has debuted at the Geneva Motor Show thus making its premiere in Europe. The model will be offered with a choice of diesel or turbocharged petrol four-cylinder engine. In addition, the model will introduce world-first technologies, and will deliver great level of dynamic customization. It will also be available in Hybrid variant.
The Q50 was the first Infiniti Q car to take the Geneva spotlight. To go further into details, the hybrid delivers 364 PS (268 kW) and the diesel version - 2.2d powered by a new 2.2-litre diesel engine. Infiniti's first four-cylinder diesel unit on the other hand generates 170 PS (125 kW) and 400 Nm (295 kW) of torque, and low emissions starting from below 115g/km of CO2.
In addition, this Infiniti model will include emotive styling with distinctive human eyes-like headlight and 'Double Arch' grille. What is more it also comes equipped with world-first technologies such as Direct Adaptive Steering, and a digital environment.
2014 Infiniti Q50 in both diesel and hybrid forms will go on sale in Europe from this fall in a range of standard and Sport models.
Video Source: YouTube
Source: Infiniti