Hamann Porsche Panamera Cyrano
The latest project of the German based tuning company HAMANN-Motorsport is named Hamann Porsche Panamera Cyrano. As we all know the Porsche is coming from the factory with great amount of power and shows significant performance.
However, even more power has been given to this Gran Turismo which is 603 hp/ 443 kW.
The torque has been increased as well and is now up to 870 Nm at 2,250 - 4,500 rpm. Given these numbers, it is no surprise that the ttuned vehicle can accelerate from 0 to 100 km/h in just 3.9 seconds.
Furthermore, the Panamera can be also equipped with the Sport Chrono Package. With it, the vehicle accelerates even faster. Here we are speaking about 3.7 seconds for the acceleration sprint from 0 to 100 km/h.
With the increase of the aforementioned data, the top speed increases as well to the impressive 315 km/h and thus it conclusively thumbs its proverbial nose at the series models (Turbo 303 km/h, Turbo S 306 km/h).
In the process of transformation, the HAMANN designers and engineers revamped the front completely. Here now can be seen larger air intakes in connection with perfectly integrated daytime running lights. They give the Porsche more dynamic stance.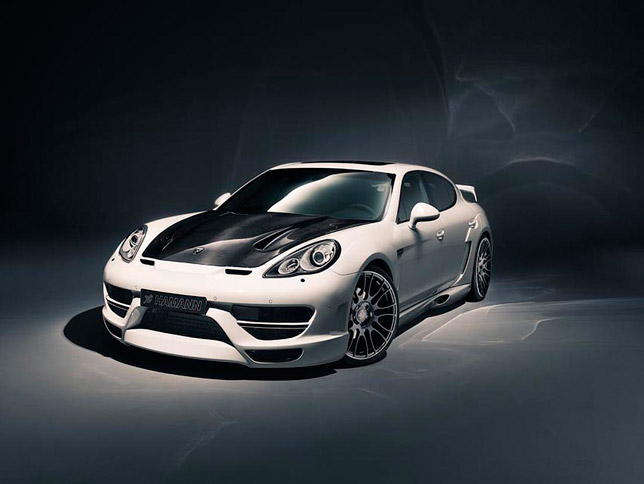 The bonnet has been redesigned as well, so now the airflow is optimized. Furthermore, there has been added 60 mm width to the front and rear fenders. The aim of this is to make the GranTurismo look even more imposing.
In order to reduce the up-lift forces at the rear axle, there has been developed a special diffuser rear apron, which encases the striking dual tailpipes of the sports exhaust system.
To enhance even further the powerful and sporty stance of the Cyrano, the German engineers have added new unique forged "Gunmetal" 22-inch rims. The rear is fitted with 11.0Jx22 inch rims and 305/25 ZR 22 tyres.
It is good also to mention that the handling of the car is significantly improved as well. In addition, what grab the eye are the new alu wheels with special suspensions or a lowering module for the air suspension. They lower the Panamera's center of gravity up to 30 mm.
How about the interior? Although we were not given an image, the tuners say that it has been entirely redesigned as well. The interior is now wrapped with the finest leathers. The HAMANN aluminium pedal system shines in the footwell and complements perfectly the medical applications of the car's serial production interior.
Source: HAMANN