Hartmann Vansports Volkswagen T5 Prime
Hartmann Vansports Volkswagen T5 Prime is powerful and stylish, and although it is based on a van, it looks better, sportier and more luxurious.
Hartman has added more power and dynamic to the Volkswagen by upgrading the engine. In details, the Vansports electronic Diesel-Performance-Kit pushes the 2.0 TDI from 103 kW (140 hp) up to 122 kW (165 hp), and the torque from 340 Nm (460 lb-ft) up to 395 Nm (535 lb-ft). If the bus is equipped with the 2.0 BiTDI then the transformation is from 132 kW (180 hp) up to 156 kW (212 hp), torque from 400 Nm (542 lb-ft) up to 460 Nm (623 lb-ft).
The driving fun is further enhanced thanks to the Hartmann's sport-exhaust-system and an electronic accelerator pedal kit. What they do is basically to optimize the standard signal in the T5, which allows a significantly shorter reaction response during acceleration.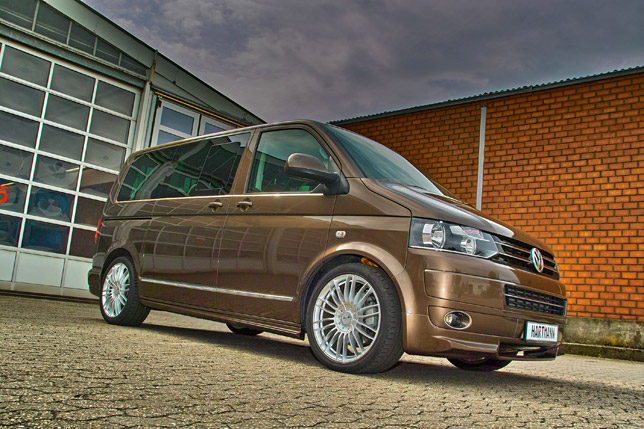 Furthermore, the sports suspension which has been added is giving a better visual outlook to the van. In addition it enhances the road handling for all steering, acceleration and braking maneuvers without sacrificing any comfort.
In particular, the sport suspension brings the T5 30 mm closer to the road. Additional visual highlights are the front spoilers, the side-skirts and the rear skirt extension, as well as the light alloy wheel program.
The wheel design here is created by VEST 3 and the size is 9 x 20 inches coming along with 275/35 R20 Tires. At last, the interior styling of this vehicle offers velour carpeting with an embroidered Hartmann emblem, antiskid rubber-knobs and interior parts in carbon optic.
Source: Hartmann