Volkswagen

ID.7

(

2024

)
Volkswagen ID.7
Volkswagen has unveiled its first global electric model, the ID.7, for the upper mid-size class. The car has a range of up to 700 kilometres (WLTP) and boasts a superior powertrain, spacious interior and premium technologies, making it ideal for comfortable long-distance travel. The model is almost five metres long and has an enhanced customer-focused operating concept and a high-quality appearance. The ID.7 will be launched this year in Europe and China, and in North America from 2024.
Thomas Schäfer, CEO of Volkswagen Passenger Cars, said, "With the ID.7 we are taking the next step in our electric offensive. The limousine offers a high level of comfort and long ranges. By 2026, we will offer the widest electric range of all manufacturers in Europe – from the entry-level model for less than 25,000 euros up to the ID.7 as the new top model within the ID. family. Our goal is to achieve an electric car share of 80% in Europe by 2030. Volkswagen will produce only electric vehicles in Europe starting from 2033."
Kai Grünitz, who is responsible for Development at Volkswagen, said that the ID.7 model sets new efficiency standards with the help of the modular electric drive matrix (MEB). They are targeting a range of up to 700 km according to WLTP, which is possible due to good aerodynamics and increased efficiency in powertrain and thermal management. The ID.7 is the first MEB model with a new and highly efficient drive system that delivers 210 kW (286 PS) of power, making it the most powerful electric drive motor in any Volkswagen ID. model to date. The power variant is the same for all battery sizes and has an internal designation of APP550, which was developed and produced in Kassel, Germany by Volkswagen Group Components.
The new electric drive has been optimized to consume less energy, and it is expected that the WLTP ranges of up to 700 km and charging capacities of up to about 200 kW will be possible, depending on battery size. This makes the ID.7 ideal for long-distance travel, making it suitable for frequent drivers and fleet customers.
The ID.7 was built with aerodynamics in mind and is almost five meters long. Its roof slopes elegantly to the rear in a coupé style, which helps achieve a drag coefficient of about 0.23 (depending on vehicle equipment). The long wheelbase and short overhangs provide ample interior space for all passengers.
Volkswagen introduces a new operating and display concept for the first time, along with exclusive equipment options.
Volkswagen has introduced a new operating and display concept in the ID.7 based on feedback from customers. The company has improved the operating experience in important areas. This includes the following features as standard:
a 38-centimetre (15-inch) infotainment system screen
the augmented reality head-up display
a new air conditioning operating concept integrated on the top level of the infotainment system as well as freely assignable favourites buttons
a backlit touch slider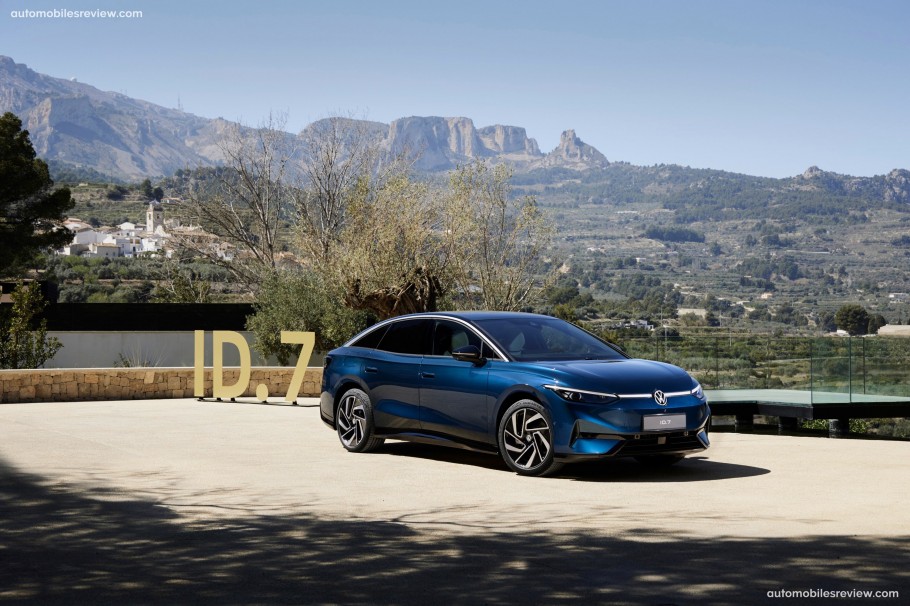 Imelda Labbé, who is a Member of the Brand Board of Management for Sales, Marketing and Aftersales, believes that the ID.7 is a highly significant model for Volkswagen in several regions around the world. The ID.7 is equipped with premium technologies, which make it highly appealing for existing as well as new customers. The car offers features such as massage seats, an electronically dimmable panoramic sunroof, and an adaptive seat Climatronic, which are typically found only in higher-end premium vehicles. The new panoramic sunroof has smart glass, which can be switched between opaque and transparent settings by touch control. The ID.7 also features a 700-watt sound system from Harman Kardon, with 14 high-end loudspeakers, including a subwoofer in the luggage compartment, which provides a remarkable sound experience.
Enhanced best-in-class assistance systems
Volkswagen's ID.7 features Travel Assist with swarm data, developed with the VW Group's software company, CARIAD, which can take control of lateral and longitudinal driving as needed. At speeds above 90 km/h, the ID.7 can also support assisted lane changing on multi-lane motorways. The driver monitors this but driving is significantly easier. For parking, the electric Volkswagen can perform assisted manoeuvres in different ways, including parking with memory function up to 50 metres away. The driver can remain inside the ID.7 or monitor the parking process from outside using the smartphone app.
Accelerated electric offensive: ten new models by 2026.
Volkswagen plans to launch ten new electric models by 2026, and the ID.7 is one of them. This year, Volkswagen will introduce the new ID.3, the ID. Buzz with long wheelbase, and the ID.7. The carmaker is also planning to launch an electric compact SUV and the production version of the ID.2all at a price of less than 25,000 euros in 2026. Volkswagen aims to offer the widest range of electric vehicles compared to its competitors. The ID.7 will be produced in the Volkswagen plant in Emden (Germany) for the European and North American markets, while in China, corresponding ID.7 models will be produced locally.