Hennessey Chevrolet SS - 1000HP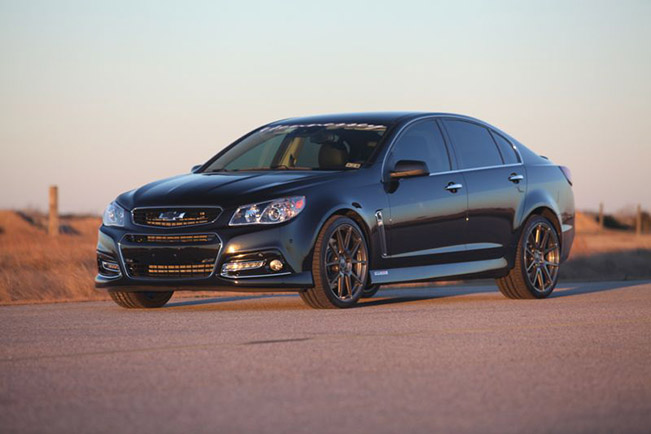 Hennessey Performance has introduced the Chevrolet SS HPE1000 coming with an extremely powerful 7.0 liter twin-turbo engine. It features forged low compression pistons, forged steel connecting rods, callies 4340 forged steel crankshaft, ARP main studs and head bolts as well as CNC ported cylinder heads, upgraded valvetrain, custom HPE camshaft, fast LSX intake manifold, new injectors, improved fuel system and twin-ball bearing turbochargers.
The result is spectacular – 1,000HP (735 kW) at 6,300RPM. Other performance parts include dual wastegates, electronic boost controller, stainless steel piping and exhaust, air-to-air intercooler and high-flow K&N air filter.
Hennessey offers professional installation, engine management calibration, dyno tuning and road testing as well as a year / 10,000 mile limited warranty.
Styling upgrades feature Hennessey HPE1000 exterior badging, premium floormats, serial-numbered dash and engine plaques.
The performance upgrade requires centerforce dual friction clutch upgrade for the 6-speed manual gearbox or performance build and torque converter upgrade for the automatic models.
Additional appearance and performance options include premium wheel and tire sets, suspension and brake upgrades, headers and exhaust upgrades, customer interior, carbon fiber body components and carbon fiber trim accents. Last, but not least is the Alcantara sports steering wheel.
Source: Hennessey