Hennessey Jaguar F-Type R Coupe: Sometimes Power Means More Power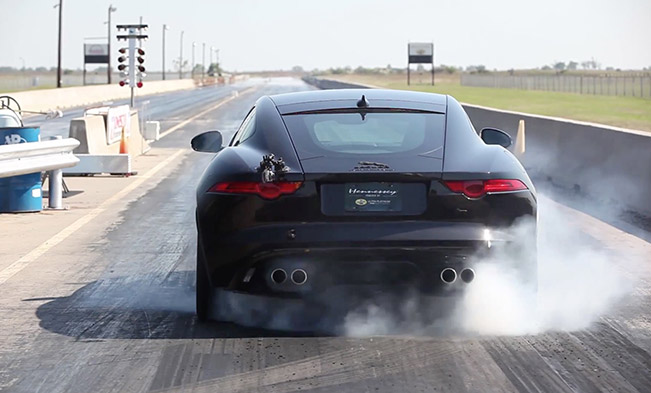 It might be inspired by the legendary E-Type sports car, but equipped with a 5.0-liter supercharged V8, the 2015 Jaguar F-Type R Coupe is just as powerful and furious as the 707 HP 2015 Dodge Challenger SRT Hellcat for instance.
With the upgrade offered by the Texas tuner Hennessey Perormance, this Jaguar's already frenzied power is boosted to something that will fire you up in the space. Compared to the standard V-8 powered Jag, The HPE600 receives a supercharger pulley upgrade, custom-made software, intercooler cooling upgrades as well as the initial dyno tuning, serial plates and Hennessey badging. On top of this, the tuner also includes a 3-year, 36,000 mile limited warranty on all modifications.
The standard 2015 Jaguar F-Type R Coupe is powered by supercharged 5.0-liter V-8 engine producing the impressive 550-hp and 502 lb-ft of torque. What is more, the car can accelerate from 0-60 mph in 4.0 seconds. And then comes the improved, wild, sensational, mind-blowing (I can continue with the adjectives on and on but will stop here) Hennessey HPE600 Jaguar F-Type R Coupe! It yields 623 horsepower and rocks out 568 lb-ft Torque at 4,300 rpm. Impressed already? Wait until you see what's next! This beast is capable of a 0 to 60 mph sprint of just 3.5 seconds and a 1/4 mile of 11.4 seconds with a terminal speed of 126 mph. Did it manage to make your jaw drop?
Here is a full list of what the HPE600 upgrade includes:
• Custom software upgrade tuning • Supercharger pulley upgrade • Intercooler cooling upgrade • Professional installation • Dyno tuning & road testing • Serial-numbered dash plaque • Serial-numbered engine plaque • Hennessey exterior badging • 3 Year / 36,000 mile limited warranty
Power: • 623 bhp @ 6,200 rpm • 568 lb-ft Torque @ 4,300 rpm
Performance: • 0-60 mph: 3.5 sec. • 1/4 mile: 11.4 @ 126 mph
Source: Hennessey Performance