Hofele Audi Q7 Strator GT 780 Shows Sportive Elegance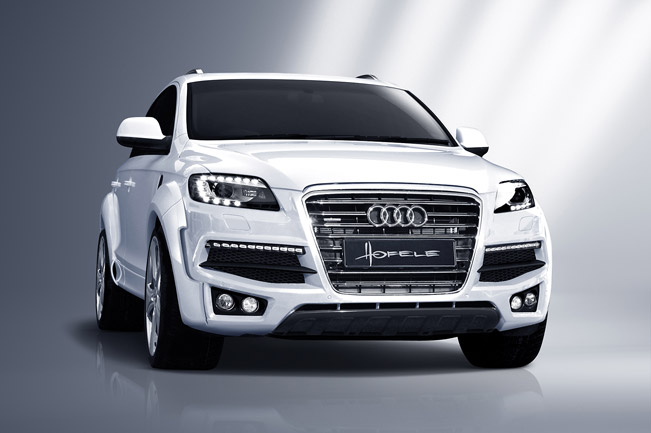 Hofele Audi Q7 Strator GT 780 has been equipped with versatile accessory program which enhances its exclusivity and makes it more dynamic. In addition, the Audi gets individual character conveying a sporty elegance.
To be more precise, the front bumper of the Q7 is entirely replaced by a new one, which includes big air intakes and four additional lamps. To make it even more impressive, the lines of the SUV were underscored by the emotional wheel arch extensions. In addition, it expresses more powerful stance thanks to the combination of the new four oval tailpipes and the wide rear apron diffusor.
Furthermore, the Strator GT's interiro has been also enhanced. Inside, Hofele-Design gave the Q7 a bi-colour leather treatement with stitched elements and ornamental seams. The seats, the door elements, the front and rear arm rests and the steering wheel were also covered with the same material.
But the transformation doesn't stop here and continues with the enhancements regarding the dynamics of the car. The tuning team has given the vehicle new set of shoes comprising of the so called REVERSO II wheels in the sizes 9,0x20" and 10,0x22" at the front and the rear respectively.
Additionally, an electrical lowering module lowers and lifts the Q7 speed-related. How this works: while standing and driving up to 80km/h the SUV is lowered with40mm and when the speed exceeds 80km/h the serial height is restored to provide the full safety and comfort.
What is more, Hofele-Design increased the power of the 3.0 TDI Diesel engine from
245 hp (180 kW) to 318 hp (234 kW) and the torque from 550 Nm (406 lb-ft) to 599 Nm (442 lb-ft).
Source: Hofele-Design