Hot Wheels Darth Vader Car Debuts At Comic-Con [VIDEO]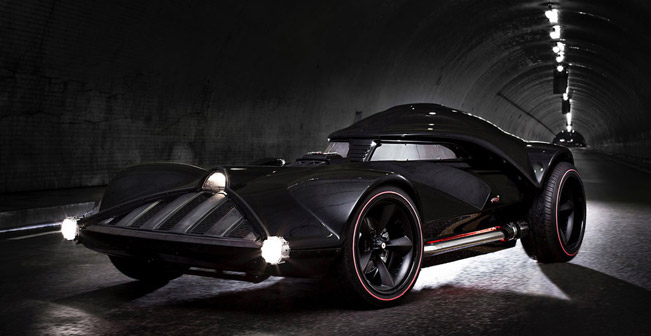 Mattel Hot Wheels Darth Vader Car is a result of the collaboration between Hot Wheels and Star Wars. They have created the ultimate ride for the dark side. This is a life-size car that is powered by an LS3 V8 engine. It generates 526 horsepower (387 kW), and rides on custom red line tires. It also produces the heavy breathing sounds famous for Darth Vader. What is more, the visitors of Comic-Con that is currently happening in San Diego will have the chance of seeing the car today. At the popular event, they can also have a sneak peek of the amazing Star Wars inspired Hot Wheels character cars and a world of replica die-cast starships and play sets.
The powerful engine drives the rear wheels and also has a backlit, side-exit exhaust system. Furthermore, the "nose" of this unique car is made of carbon fiber, and its design is made in that way so it resembles the Sith Lord's mask.
In addition, the car runs on MHT set of wheels that were specifically made for it. There are also other design elements that make it really good looking. Just take a look at the triple headlights and the split windshield.
Hot Wheels will also produce 1:64 toy version of Darth Vader's car. It is packed in a case that is just as character's red lightsaber. The mini-car will also be limited in numbers so if you wonder buying it you might want to decide faster.
The company has also released a promo video of the car, which of course you can watch below:
Video Source: YouTube
Source: Mattel