Hot Wheels - world record jump of 101.2 meters
The world record for for distance jump at has been broken by Team Hot WheelsTM Yellow Driver Tanner Foust, which successfully landed a ramp-to-ramp of total 332 feet (over 101 meters).
"Fans witnessed not only a record-breaking jump today, but also an incredible childhood fantasy come to life which engaged multiple generations," commented Simon Waldron, vice president of marketing for Hot Wheels®.
"Hot Wheels has a deep and rich history in racing that spans over 40 years and there was no better global stage than the Indy 500 to create this once-in-a-lifetime experience.", he added.
Everything started with a car on 10-story high ramp (100 feet), which flew across the infield of the Indianapolis Motor Speedway. We can't estimate the speed, but it is something around 200 km/h or more, so every mistake will be deadly. However, everything went smooth and the Indy 500 landed safely on the other ramp … The suspension took the hard hit and the driving maintained the control of the vehicle.
Enjoy the video!
p.s. The previous record was 91.75 meters.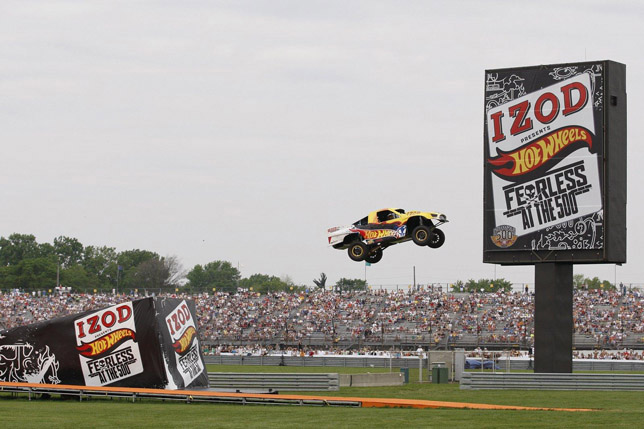 Source: Hot Wheels via WCF