Tanner Foust Racing ENEOS RWB Volkswagen Beetle with SEMA Premiere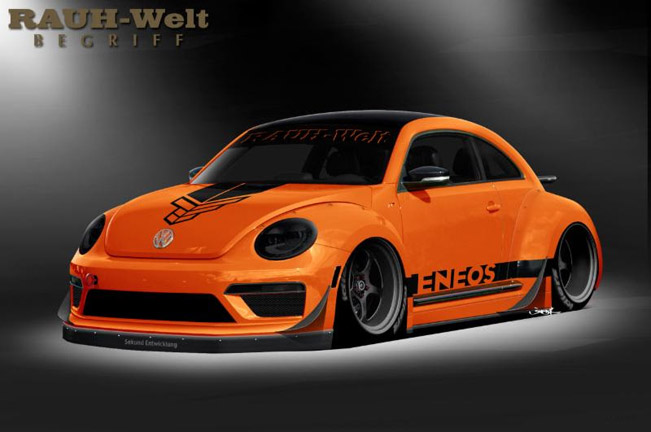 Volkswagen Beetle is conquering SEMA in a special form which is a result of the collaboration between Volkswagen rallycross driver Tanner Foust and famed Porsche tuners RAUH-Welt Begriff. As a basis they have used the 2014 Volkswagen Beetle R. The car has been subjected to customization and now is about eight inches of wider thanks to the distinctive RAUH-Welt Begriff wide body kit.
As a matter of fact both companies have been in talks over the past decade to do a project together. The result now is at hand, although this Beetle may seem like an unusual choice for a shop known worldwide for its work with Porsche 911s. However, the historic connections between the two cars made it a good fit … of course - through some innovation.
Starting with the wheels, this VW sits on custom Motegi Racing Traklite wheels. They come in the format of 18x10 inches at the front and 18x12 inches at the rear. They have been built specially with a one-off stepped lip.
The Tanner Foust Racing ENEOS RWB Beetle also includes brand's R-Line accessories. This means that it gets upgraded shift knob and pedal set. What is more, additional accessories are in development.
There are no words on engine modification, but there sure are going to be some. At the top of the engine range of the production R-Line sits the 2.0 TSI, which produces 200 horsepower (147 kW) and we definitely expect to see this poweplant getting supercharged.
Source:  Tanner Fous