HPD Honda CR-Z Racer Hybrid
Honda will take a part at this year's Le Mans 24 Hours endurance race with CR-Z Hybrid coupe. The specially prepared car was firstly unveiled at last year's SEMA Show in Las Vegas. It is developed by Honda Performance Development (HPD), the "racing arm" of American Honda.
HPD Honda CR-Z Racer Hybrid is powered by a 1.5 liter turbocharged four-cylinder petrol with the help of an electric motor. Both are mated to a 6-speed manual gearbox and the overall power is 200HP and 237Nm of torque, which makes a specific power of 133HP per litre. Not bad at all!
The electric motor takes power from a 7 kWh Li-ion battery pack and helps the internal combustion engine, when it is needed.
CR-Z Hybrid offers superb fuel consumption and nice performance, so we are excited to see, how it will perform at the race track.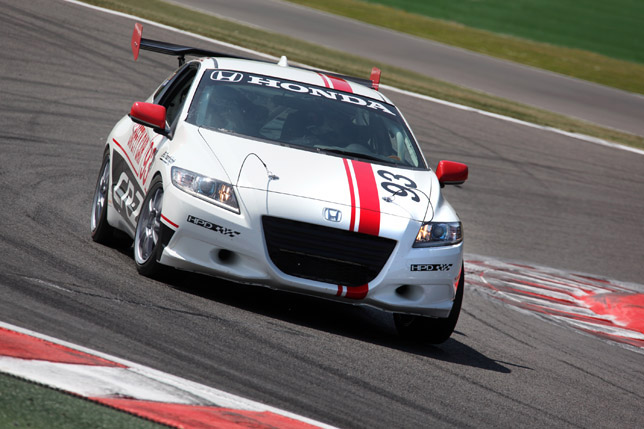 HPD Honda CR-Z Racer hybrid: Production year: 2010
Configuration: Combination IMA hybrid (Electric motor between the internal combustion engine and gearbox) Li-ion battery 7 kWh/173 volts
Architecture: 4 cylinders in line, mounted transversely in front, FWD
Displacement: 1,497 cm3
Type: SOHC, 4 valves / cylinder; fuel Injection and turbocharger
Transmission: 6 speed manual
Power: 200 hp
Max torque: 237 Nm
Specific Power: 133 hp / litre
Source: Honda