Hyundai Develops Own Six-Speed Automatic for Improved Fuel Efficiency
To help meet its goals of improving fuel efficiency and reducing CO2 emissions of its vehicles, Hyundai Motor Company has completed the development of an all-new 6-speed automatic transaxle that will boost fuel economy by more than 12.2 percent.
Designed for transverse engine applications in passenger cars and SUVs, the new compact transaxle puts Hyundai into an elite class of auto manufacturers who have designed their own proprietary 6–speed automatic (after Toyota and a GM/Ford joint venture) demonstrating Hyundai´s advanced powertrain engineering capabilities.
"The strength of our design is its totally unique layout which makes it smaller, more compact and lighter than any other 6–speed on the market today," said Hong–Min Kim, the project manager of the transaxle at Hyundai Motor´s R&D Center. In fact, the design is so unique and so advanced, Hyundai has applied for nearly 300 patents to protect its intellectual property.
For the customer, the new six–speed promises a performance edge. The transaxle will first arrive in the new Hyundai Grandeur/Azera equipped with a 3.3–liter V–6 Lambda engine. In this application, it delivers a 12.2 percent gain in fuel economy (10.1km/l versus 9.0km/l) and is 2.5 percent quicker in zero to 100km/h acceleration times (7.8sec versus 8.0 sec). It also delivers an 11 percent improvement in 60km/h to 100km/h passing performance (4.0 sec versus 4.5 sec).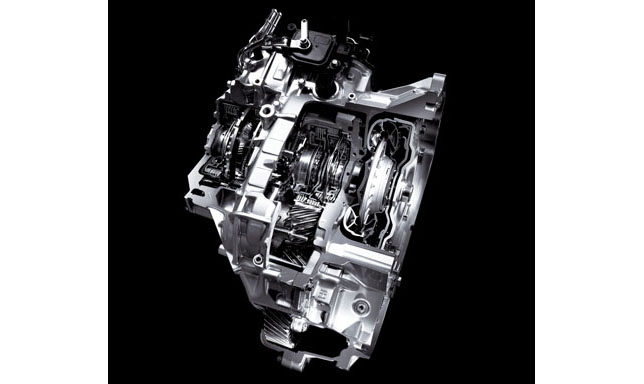 The unit also is maintenance–free: The gearbox is not equipped with a dipstick as it is filled with an automatic transmission fluid that is good for the life of the vehicle thereby reducing maintenance costs.
Developed over a four–year period, this new 6–speed automatic gearbox offers numerous technical merits. Despite the extra gear, it´s 12kg lighter than the 5–speed it replaces. It also is 41mm shorter and considerably simpler having 62 fewer parts, which is a key to increased durability and lower cost.
When it comes to gearsets, more is definitely better. The addition of a sixth gear enables closer spacing between gear ratios providing a better balance of performance and fuel economy while the wide overall gear ratio helps deliver strong acceleration.
The gearbox has three planetary gearsets whose hallmark is simplicity of design and a unique flat torque converter which shortens the unit´s overall length by 12mm. Four pinion differentials improve durability and further minimize size.
Another example of engineering ingenuity is to be found in the design of the hydraulic pressure control unit. Because there are always slight manufacturing deviations from one solenoid valve to the next which cause fluctuation in the hydraulic pressure and affect shift precision and quality, the transaxle features cleverly integrated adjustment screws in the valves which enable each of the eight valves to be calibrated at the factory.
This novel feature ensures stable hydraulic pressure at any shift point which facilitates a high degree of precision and control needed to deliver ultra–fast, smooth and precise shifts throughout the rpm range.
The new 6–speed went into production this month (December) and will see its first application in Grandeur/Azera models beginning in January 2009. A total of five variants of the 6–speed transaxle will be produced to accommodate a wide range of gasoline and diesel engines. A total of sixteen different Hyundai models will get this transmission including a redesigned Santa Fe, which is due to arrive in late in 2009 and early 2010 in some markets.