2015 Hyundai Grandeur Sedan Debuts In South Korea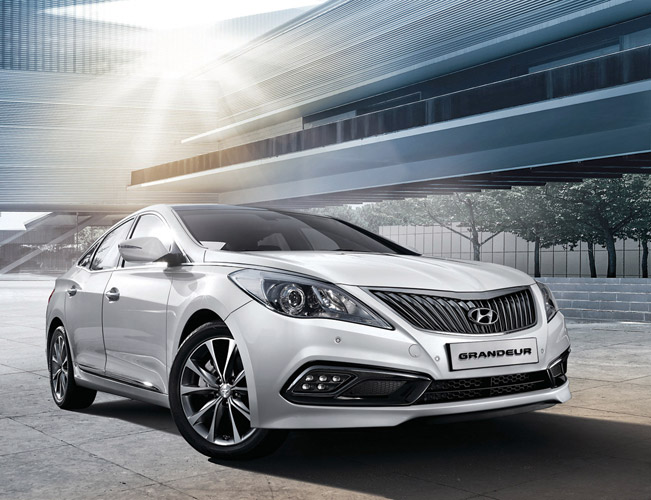 2015 Hyundai Grandeur Sedan was just introduced in South Korea at the 2014 Busan International Motor Show. The model has received an upgraded powertrain and some aesthetic enhancements. The flagship premium is scheduled to debut in Korea later this year. The upgraded Grandeur is equipped with company's 2.2-liter R diesel engine. The unit features for the first time Variable Geometry Turbocharger. This newly adopted power plant generates 202 hp (149 kW).
In addition, Grandeur Sedan will also benefit from the Theta II 2.4-liter GDI petrol engine. It delivers 190 hp and includes improvements to the motor-driven power steering system that result in a greater handling responsiveness and stability.
The exterior of this Hyundai model was also updated and includes redesigned front and rear styling, as well as enhanced audio equipment. Furthermore, the 2015 Grandeur is 10 millimeters longer than the outgoing model. Stylish new grille and front bumper complement the LED fog lamps, while at the rear we have a high-gloss two-tone rear bumper design.
The cabin has received a remodeled central fascia with the latest Heating, Ventilation, Air Conditioning (HVAC) controls, as well as a new 8-inch navigation screen. All this comes as a standard.
In terms of safety, there are several added features such as Blind Spot Detection (BSD), Front Collision Warning System (FCWS), and Lane Departure Warning System (LDWS) features secure drivers' safety, Advanced Smart Parking Assist System (ASPAS) and Smart Trunk.
Source: Hyundai