2015 Infiniti Q70 Line-up to Debut at Paris Auto Show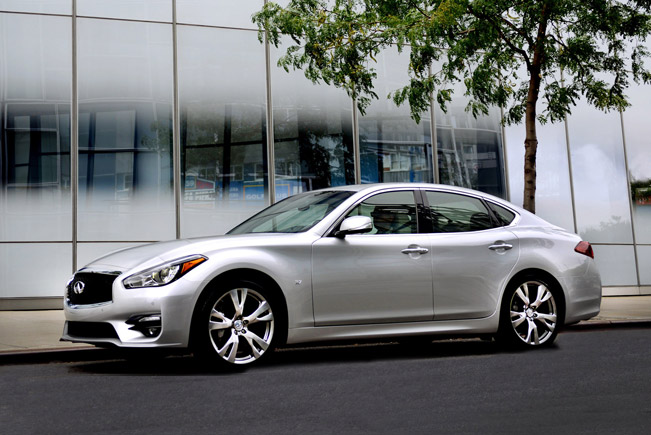 2015 Infiniti Q70 was recently launched in North America but it is still unknown for the European market. The car is set to make its debut there at this year's Paris Auto Show, where it will show all its upgrades and premium equipment. The exterior has undergone several changes including a redesign of the front and rear bumpers, which now are more chiselled in their appearance.In addition, the headlights maintain the "Infiniti eye" using as a standard LEDs. At the back, the taillights are also getting LEDs. Both the standard grille look and Sport grille are changed.
Inside, the cabin now features more on-board comfort, while the noise isolation has been further improved. Several points around the body and chassis structure have been modified in order to deliver enhanced noise reduction. Additionally, wind, tyre, and mechanical sound entering the passenger area have also been significantly reduced.
Other changes have been made to the suspension, which further improves the ride comfort. The telescoping dampers now adopt a new seal design between the sliding tubes which minimises the initial impacts over road imperfections. Infiniti Q70 runs on standard 18-inch wheels.
Specifically for Europe, this Infiniti model will be powered by the 2.2-litre turbo-diesel four-cylinder engine. It produces 167 horsepower (123 kW) and 400 Newton metres (295 lb-ft) of torque. The 1800-psi solenoid injectors and single variable-geometry turbocharger reduce both turbo-diesel lag time and fuel consumption.
Q70 Hybrid's powertrain features Infiniti Direct Response Hybrid system with Intelligent Dual Clutch Control. Both technologies have been improved, from the reduced mechanical friction of the 3.5-litre V6 gas engine to the new software programming managing.
The range of safety features has been made batter with the addition of the Around View Monitor (AVM). AVM comprises of cameras, sensors, and lasers fore and aft. Q70 now also features a enhanced connectivity interface as well as additional 12V outlets placed in the cabin and cargo area. There are also small stowage spots for the personal devices.
2015 Infiniti Q70 will go on sale in European in December. Pricing will be announced closer to launch time.  Infiniti US has announced pricing for the Q70, Q70 Hybrid and new Q70L for North America. The models are scheduled to go on sale beginning late September.
2015 Infiniti Q70 US Pricing:
| | | |
| --- | --- | --- |
| Model | Engine/Transmission/Drive | MSRP |
| Infiniti Q70 3.7 | 3.7-liter V6 / 7AT/ RWD | $49,850 USD |
| Infiniti Q70 3.7 AWD | 3.7-liter V6 / 7AT/ AWD | $52,000 USD |
| Infiniti Q70 5.6 | 5.6-liter V8 / 7AT / RWD | $62,850 USD |
| Infiniti Q70 5.6 AWD | 5.6-liter V8 / 7AT / AWD | $65,350 USD |
| Infiniti Q70 Hybrid | 3.5-liter V6 Direct Response Hybrid™ System/ 7AT | $55,900 USD |
| Infiniti Q70L 3.7 | 3.7-liter V6 / 7AT/ RWD | $51,350 USD |
| Infiniti Q70L 3.7 AWD | 3.7-liter V6 / 7AT/ AWD | $53,500 USD |
| Infiniti Q70L 5.6 | 5.6-liter V8 / 7AT/ RWD | $64,550 USD |
| Infiniti Q70L 5.6 AWD | 5.6-liter V8 / 7AT/ AWD | $67,050 USD |
Source: Infiniti