Infiniti Q80 Inspiration Revealed at the Paris Auto Show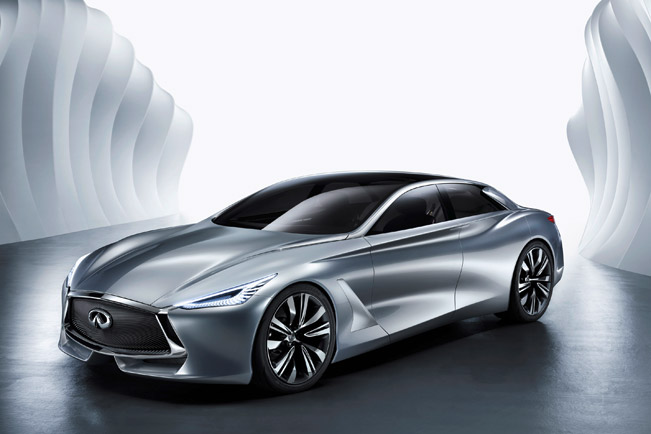 Infiniti Q80 Inspiration which was teased a several times the last month was revealed today in its full glory at the Paris Auto Show. The bold concept also shows Infiniti's future plans for design and smart powertrain technology. Q80 Inspiration's name indicates production intent and suggesting not only changes in the design language, but also an introduction of ingenious technologies and more importantly, brand's ambition to launch into a new segment.
The presence of the car is firstly defined by its proportions. Its width is 2010mm (79.1 inches) and length - 5060mm (199.2 inches), while the height measures 1340mm (52.8 inches). In other words, the Q80 is luxurious sedan-like car with a fastback contouring.
Inside, there are four individual seats. The most striking thing about this vehicle is that its doors are portal-style ones. Driver's interface is simplified, while the unique head-up display (HUD) keep the complex algorithms of the intuitive technology hidden from view, showing only the information drivers need.
The person standing next to the driver also gets an HUD for display of external information. In addition, each rear passenger has a touch screen at the back of the front seat rest. The interior is exquisitely detailed and includes quilted leather seats as well as Alcantara, leather and metal finishes. The sculptural panoramic glass roof bathes with light this unique interior. 
Q80 Inspiration is powered by a downsized twin turbocharged 3.0-liter V6 and a hybrid electric powertrain. The total output is 550 hp (404 kW), but the car is still capable of returning 5.5L/100km (42.8 mpg) and 129g/km of CO2 emissions. What is more, the smart drivetrain has the ability to switch from rear wheel drive to all wheel drive on demand.
Furthermore, the concept vehicle uses an autonomous driving technology system, which features cameras, lasers and sensors. They can be employed by the driver when needed through a button on the left-hand side of the steering wheel. All the needed data is delivered to the driver via the HUD display and is projected on the windscreen. This enables them to utilize the driving assistance at their own judgement.
Source: Infiniti