2013 Jaguar XJ - Pricing and Specifications
More details around 2013 Jaguar XJ has just been revealed. The vehicle will benefit from improved efficiency, more comfort and functional technologies.
Jaguar's most technologically advanced car is now more efficient and refined than ever before. In order to improve the overall efficiency of the XJ, the brand has included an eight-speed ZF transmission with Intelligent Stop-Start as standard to it.
This new feature leads to lower fuel consumption and emissions and now the XJ is expected to achieve 47 MPG while emitting 159g/km of CO2.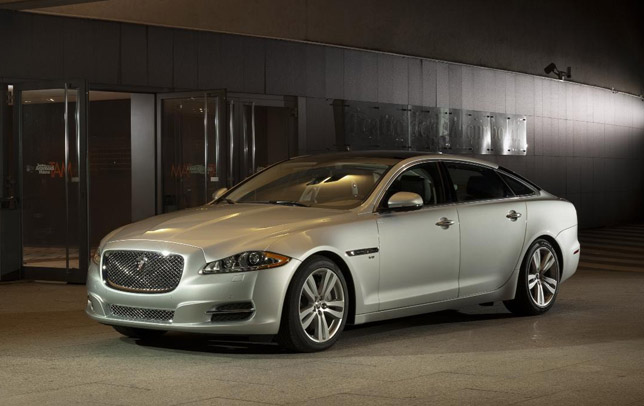 Further improvements concerning the performance of the Jaguar have been thanks to the introduction of a new 3.0-litre, supercharged V6 powertrain. This one produces 340 hp (250 kW) and 450Nm (332 lb-ft) of torque.
Next, some upgrades have been done on the suspension of the car. Alongside the exciting new powertrain line-up all models in the range will include re-calibrated spring and damper tunes as well as remapped damper software, thus delivering enhanced ride isolation and passenger comfort.
2013 Jaguar XJ Specifications:
| | | |
| --- | --- | --- |
| Engine Variant | 3.0 V6 S/C Petrol | 5.0 V8 S/C Petrol |
| Layout | V6 cylinder | V8 cylinder |
| Capacity | 2995 cc | 5000 cc |
| Power | 340PS | 510 PS |
| Torque | 450 Nm | 625 Nm |
| Fuel economy | 9.4 l/100km (30mpg) | 11.3 l/100 km (25mpg) |
| CO2 emissions | 224g/km | 268g/km |
| Performance (0-60 mph) | 5.7secs | 4.7 secs |
| Performance (0-100 kph) | 5.9 secs | 4.9 secs |
| | | |
| Engine Variant | 3.0 V6 Diesel S | |
| Layout | V6 cylinder | |
| Capacity | 2,993 cc | |
| Power | 275 PS | |
| Torque | 600 Nm | |
| Fuel economy | 6.0 l/100 km (47mpg) | |
| CO2 emissions | 159 g/km | |
| Performance (0-60 mph) | 5.9 secs | |
| Performance (0-100 kph) | 6.4 secs | |
2013 Jaguar XJ Pricing:
XJ 13MY on-the-road (OTR) Pricing (£)
Standard wheel-base
XJ 3.0 Diesel Luxury
56,260
XJ 3.0 Diesel Premium Luxury
60,060
XJ 3.0 Diesel Portfolio
67,260
XJ 3.0 S/C Petrol Premium Luxury
65,365
XJ 3.0 S/C Petrol Portfolio
72,815
XJ 3.0 S/C Petrol Supersport
91,735
Long wheel-base
XJ 3.0 Diesel Luxury
59,260
XJ 3.0 Diesel Premium Luxury
63,060
XJ 3.0 Diesel Portfolio
70,260
XJ 3.0 S/C Petrol Premium Luxury
68,515
XJ 3.0 S/C Petrol Portfolio
75,815
XJ 3.0 S/C Petrol Supersport
95,235
Source: Jaguar