JE DESIGN Seat Ibiza FR Delivers More Sportiness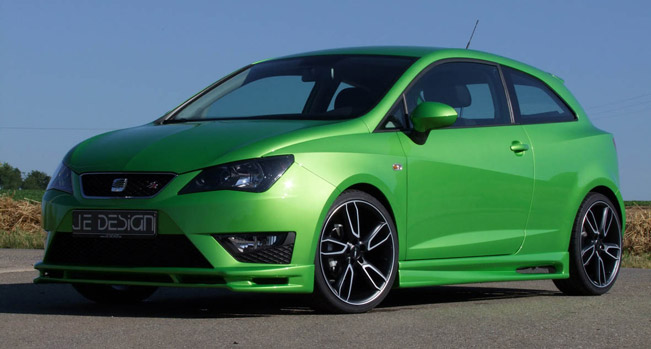 JE DESIGN Seat Ibiza FR is now conveying more sportiness than ever. Thanks to the talented tuners from JE DESIGN this Ibiza model is now equipped with a range of accessories which emphasize its features.
Here was included the unique Aerokit with its outstanding design and high quality. All the aerodynamic components - made from high-quality ABS plastic, fulfill the legal requirements with flying colors.
To be more precise the Aerokit includes a front spoiler, headlight bezel, side skirts, carbon-look tail panel, carbon-look rear apron diffuser and a roof edge spoiler. A stainless steel sports exhaust system with a left/right tailpipe is also available as an additional option to the package.
The lowering springs here emphasize the sporty appearance of the Seat. What they do is to bring the small car about 35 millimeters closer to the ground. This makes the alloy wheels look even more dynamic with their inherent multi-spoke design. The complete wheel set measuring 7x17 inches comes in the colors shadow silver or matt black with polished rims.
The specialists have also included some modifications found under the hood. The power output of the 1.2 liter TSI has been increased for instance from 77 kW (105 hp) to 103 kW (140 hp). The torque is also improved and now is exactly 230 Newton meters (170 lb-ft).
Source: JE DESIGN