2012 Jeep Wrangler Unlimited Altitude: the new limited-edition model from Jeep
2012 Jeep Wrangler Unlimited Altitude is the new limited-edition vehicle which recently has been introduced by the brand. This is the latest Altitude model in the fleet of Jeep, and it comes after the release of the Grand Cherokee, Compass and Patriot Altitude models last month.
In short the vehicle is based on the 2012 Jeep Wrangler Unlimited Sahara model, however it comes to offer unique exterior styling. As you can see this Wrangler Altitude includes a body-color hardtop combined with a variety of black-gloss exterior appointments, and a distinctive black-and-red interior theme.
There will be production of only 4,500 units of this particular model which are expected to be sold very quickly. The 2012 Jeep Wrangler Unlimited Altitude will be available at dealerships next month.
As already mentioned, the Altitude edition includes a body-color hardtop with matching painted center sections on the front and rear bumpers. What is unique here are the eighteen-inch, five-spoke alloy wheels with black-painted spokes and polished wheel rings. Of course, they were combined in order to give the Wrangler model a one-of-a-kind appearance.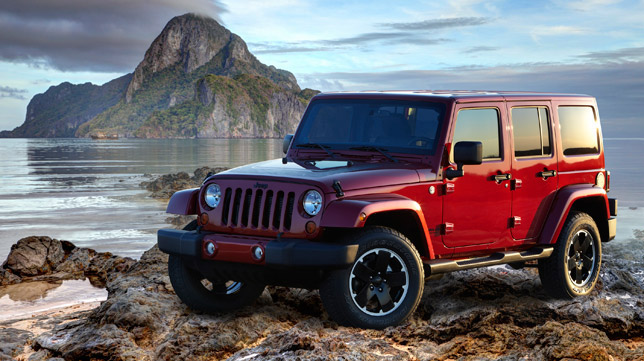 Furthermore, Wrangler Unlimited Altitude's exterior appointments are finished with Mopar® black fuel fill door, a matte black Jeep grille badge and a black tone-on-tone hood graphic. All this makes the appearance of the vehicle more harmonious.
Next to be mentioned is the black-and-red theme which can be found in the interior. In details, red accent stitching adorns black leather seats, door panels, center arm rest, floor mats and steering wheel.
Tp provide more contrast to the cabin, in black color are the vent rings, steering-wheel spokes, door pulls and passenger-side dashboard grab handle and berber floor mats.
Some of the interior highlights here are the redesigned instrument panel and storage areas with improved ergonomics and upgraded materials. Additionally, there is a lockable console and upgraded door armrest areas. The center stack is redesigned as well and now it is easier to reach and operate with it.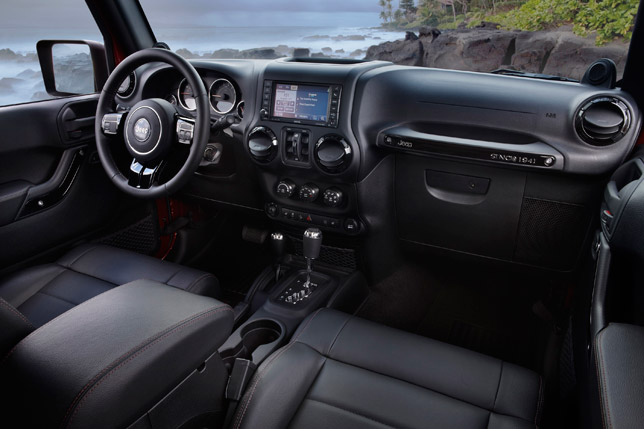 2012 Jeep Wrangler Unlimited Altitude models will be available in three trim levels: Deep Cherry Red, Black, Bright White and Bright Silver Metallic.
More importantly, the all-new, more fuel efficient and more powerful 3.6-liter V-6 engine with a new automatic transmission is included in this Jeep Limited-Edition vehicle.
In particular, the award-winning 3.6-liter Pentastar V-6 engine is able to produce 285 hp (210 kW) and 352 Nm (260 lb.-ft.) of torque.
2012 Jeep Wrangler Unlimited Altitude's starting price is $33,740.
Source: Jeep