Jeep

Wrangler Rubicon 4xe Concept

(

2023

)
Jeep Wrangler Rubicon 4xe Concept
The Jeep design team received a great response for the Tuscadero exterior paint color used in the 2021 Jeep Wrangler models. Therefore, they decided to make it even more impressive. They aimed to make the color appear tougher than before.
As a result, they created the Jeep Wrangler Rubicon 4xe concept, which combines the powerful electrified off-road capability with a bold and unapologetic color palette, making it a perfect platform for any adventure.
The Jeep concept has a striking pink-colored exterior with Gloss Black accents on the front grille and headlamp bezels. The signature seven-slot grille is from the new Jeep Wrangler Rubicon 20th Anniversary model and has a custom hood graphic with a tone-on-tone print that connects with the interior theme.
The interior of the Jeep concept follows the same tough theme. The custom leather seats have magenta accents under the animal print surface. Glossy black patent leather and metal grommets add extra style to the seats. The magenta color is also found on the door pulls, grab handles, gear shift, and transfer case shifter boots. The highlight of the interior is a black patent leather dash panel with a zipper trim that conceals a layer of pink velvet.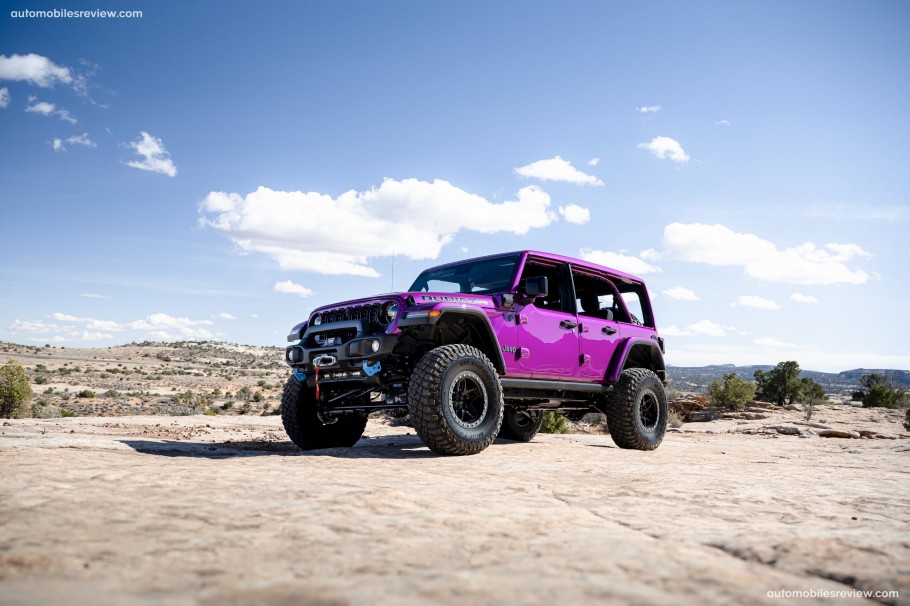 To enhance the off-road capability of the vehicle, an AccuAir air suspension kit has been added. This kit can be adjusted to provide enough space for the large 37-inch tires that are mounted on custom 17-inch high-gloss black American Expedition Vehicles (AEV) Borah wheels. The vehicle is also equipped with front and rear bumpers, differential covers, and a Warn Zeon winch, all from AEV.