Jeep

Wrangler Magneto 3.0 Concept

(

2023

)
Jeep Wrangler Magneto 3.0 Concept
The Jeep Wrangler Magneto concept has come to Moab for the third time to test the boundaries of 4x4 electrification. The Jeep Magneto 1.0 concept was introduced in 2021 as a fully capable BEV that combined stealthiness, quietness, quickness and rock-climbing capability. Jeep engineers and designers worked together to create an environmentally responsible vehicle that still provided high levels of efficiency, extreme performance on and off-road, and Jeep's 4x4 capability.
The Jeep Magneto is a custom-built vehicle based on a 2020 Jeep Wrangler Rubicon. It features a powerful axial flux electric motor that operates up to 6,000 rpm, providing up to 273 lb.-ft. of torque and 285 horsepower. The motor is paired with a six-speed manual transmission for maximum control.
In 2022, the Jeep Magneto 2.0 concept was revealed with even more impressive performance capabilities. The peak amperage in the propulsion system was increased to 600 amps, allowing for instant delivery of up to 850 lb.-ft. of peak torque and 625 horsepower, making it capable of tackling the toughest rock-climbing obstacles.
The Jeep Magneto 3.0 concept has received several updates this year. It now features a more efficient motor that increases the torque output and updated programming, resulting in a 20% increase in energy and range.
There are also three new driver-selectable functions that take advantage of the benefits of a fully electric powertrain for off-roading:
Output select allows the driver to choose between two power settings (standard: 285 horsepower/273 lb.-ft. of torque; maximum: 650 horsepower/900 lb.-ft. of torque)
Two-stage power regeneration mode allows for normal driving or enhanced brake regeneration using the electric motor when engaged.
Aggressive hill descent mode can be selected in low range to enable true 'one pedal' off-road driving in serious rock-crawling situations.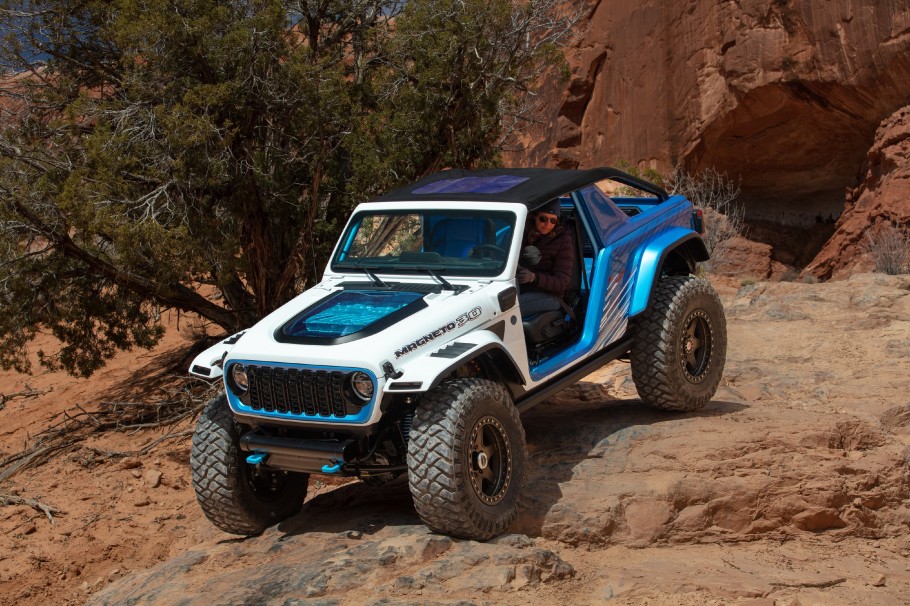 The Jeep Magneto 3.0 concept has several upgrades to improve its off-road capabilities. It includes powerful Dynatrac 60 front axles (5.38:1 ratio), Dynatrac 80 rear axles (5.38:1 ratio), 20-inch off-road beadlock wheels, 40-inch mud terrain tires, and a custom 3-inch (7.6 cm) lift.
The Jeep Magneto 3.0 concept has been modified for improved accessibility, with a six-inch (15 cm) extension to the door opening and a 60mm shift of the B-pillar. The front fender has also been stretched back by two inches (5 cm). The windshield is now tilted back by 12 degrees for a "chopped" roof look, without sacrificing front glass length. Additionally, a custom anti-roll bar has been added to enhance accessibility.
The Jeep Magneto 3.0 features an updated paint scheme that pays tribute to all three versions of the concept vehicle. The exterior now features more vibrant details, including red accents. Inside, the front seats have been reupholstered in blue leather with red stitching to match the exterior. The rear seats have been removed, and the floor has been Rhino-lined in Surf Blue for added durability and functionality.