Kahn Land Rover Defender 2.2 TDCI XS 110 Chelsea Wide Track Edition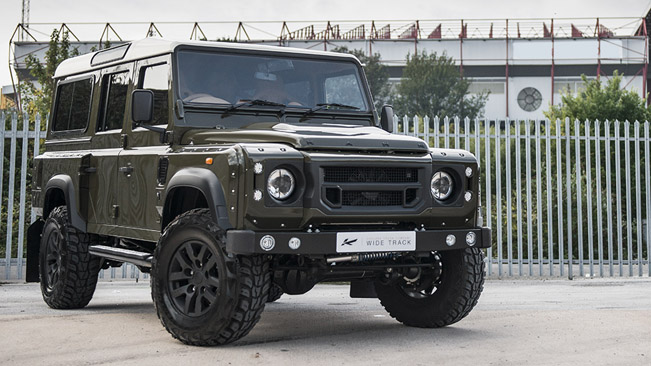 This Land RoverDefender has been treated so well that in its current state it looks amazing. The seven-passenger Fungus Green vehicle has been adorned abundantly with a lot of rugged and luxurious amenities that set it apart from the average Defender. First, Chelsea Truck Company has transformed it into a 2.2 TDCI XS 110 Wide Track Edition we haven't seen before. The team had to rework substantial aspects of the exterior and interior of the SUV in order to make it stand out.
They have begun with the exterior, which is now even more rugged and exclusive than before. Precisely, the front fascia has been entirely changed and now includes a new X-Lander front grille in Fungus Green and Old England White.
They have added also a new bumper with integrated lighting, cross-hair military headlights, bumper sump guard mesh hood vents to help cool the engine. Just like at the front, the rear also got wide wing arches. The roof contrasts to the overall design theme in Old England White.
Next, the tuners have equipped it with a set of commanding 1948 Defend wheels in satin black, which come in the size of 8.0 x 16" and are fitted with 265x75x16 tyres. Behind the wheels we can see the liquid red painted brake callipers.  The exterior look is rounded out by the twin crosshair exhaust system, 2" suspension lift, up rated gas shocks/steering damper, welcome ambient illumination package and hard- wearing mud flaps.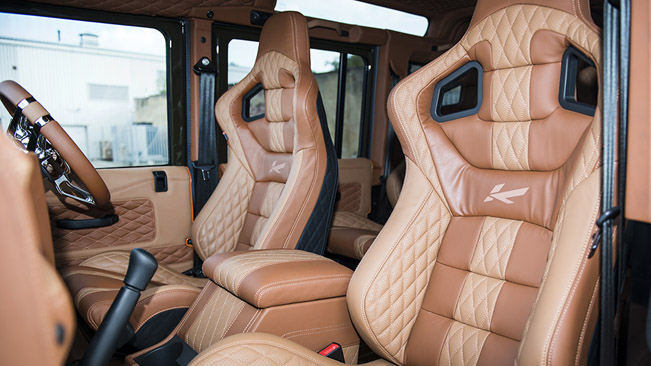 While the dark-tinted privacy glass leaves the onlookers guessing what is on the inside, the occupants enjoy a luxury atmosphere. This is where the might of A. Kahn Design can be seen in its full glory. To be more precise, the front and rear seats have been replaced with GTB sport units with quilted and perforated tan nappa leather.
In addition, the centre glove box, passenger dashboard, grab handles, door panel inserts, instrument binnacle, rear door panel, roof headlining and sun visors are also upholstered. The interior also benefits from a Churchill time clock and speedo/rev counter facia in red, alpine satellite navigation system, door entry sill plates, rear cabin access LED lights, reverse camera, Kahn billet steering wheel and vented machined aluminium foot pedals.
What is more, the rear floor space has been substituted with classic teak decking, including a transparent pod for the Alpine stereo amplifier. At last, Kahn branding rounds-out the package.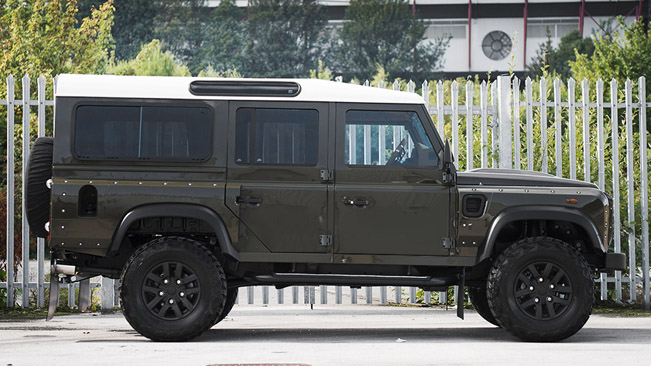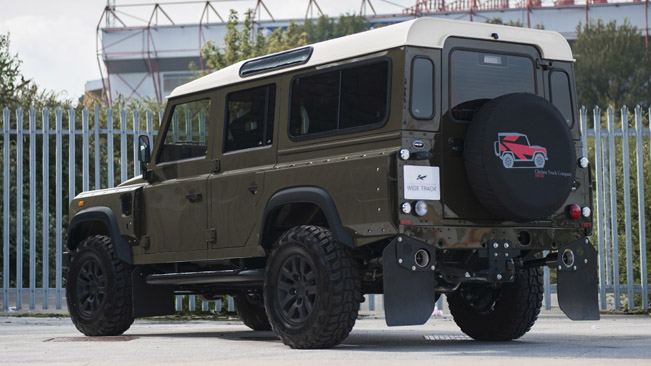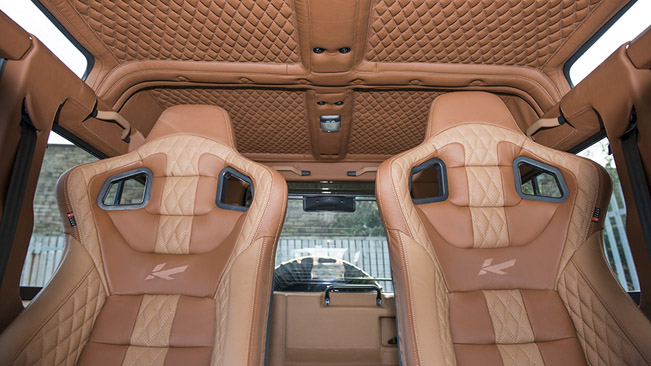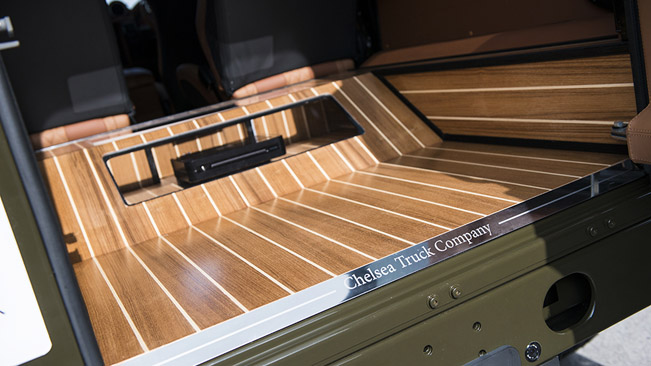 Source: A. Kahn Design