2012 Kahn Porsche Panamera wide track edition
Afzal Kahn has just re-designed in his absolutely unique and outstanding way a Porsche Panamera in carbon grey complete with the F1 number plate. The car was purchased for the amount of 460 000GBP. The tuner however gave a new exceptional look on it!
2012 Kahn Porsche Panamera includes the special wide track styling package, which consists of wide vented front and rear wheel arches with an integrated rear air dam, lower boot wing, Kahn lowered sports suspension system, billet aluminum side vents, privacy tinted glass, red brake calipers and tinted rear lamps. Moreover Kahn's stainless steel quad exhaust system is reflecting an attraction to a pluto-matic lifestyle. The vehicle was completed with a cross hair exhaust feature, which takes the Porsche to a whole new dimension.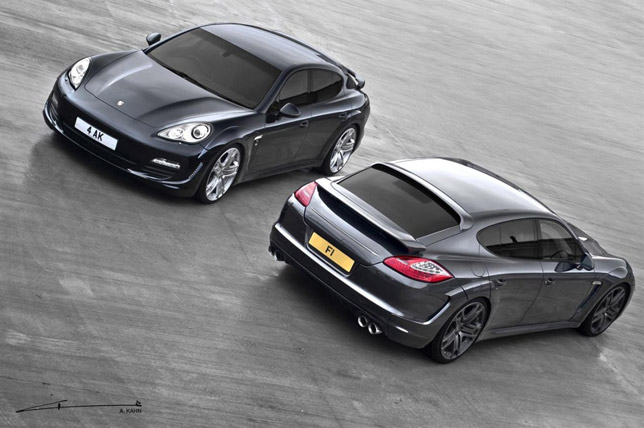 On the other hand the Panamera comes from the factory with a satellite navigation, bi-xenon headlamps, front and rear park assist, Porsche pdk including auto start/stop function, sport chrono plus package, power lift tailgate, heated front seats and iPod connectivity. Another thing to be highlighted here is the absolutely astonishing interior which the designers have made. It is a picture which blends claret quilted and perforated leather with the speedo and rev counter facia in red and cream. Furthermore, the Porsche sits on Kahn wheels, which have been created with a state-of-the art materials and technology. They are precisely the 22" Kahn RS600 wheels finished in color of customer's choice.
Source: Kahn Design