Kia Motors Corporation released Cadenza saloon
The luxury sedan from Kia - Cadenza will make its first debut at motor shows in the Middle East, towards the end of the year. This is the production version of VG concept car. Cadenza is designed to deliver better driving experience, good safety and own style to the customers.
The strange name comes from Italian musical term, which is used to describe an elaborate, ornamental flourish for a concerto or aria. Obviously, Kia didn't picked the perfect name for their executive saloon. At first glance, Kia Cadenza is a real eye-catcher. It has nice sporty appearance with the distinctive headlights and front grill. In addition the LED surrounds complete the aggressive look of the saloon. The rear lights emphasize the car's high-tech feel.
Kia Cadenza is targeted to customers, who search high luxury at decent price. Among the large amount of extras are heated steering, powered extendable seat cushions, automatic defogging of the windscreen and ventilated front seats.
Cadenza is positioned above the existing Magentis model in Kia's global line-up but currently there are no plans to bring to vehicle to the UK.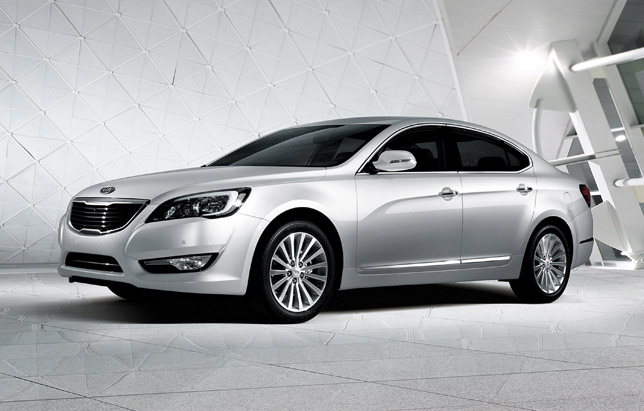 Kia Motors (UK) Limited Managing Director Michael Cole commented: "Despite its striking appearance and high-tech engineering I do not believe this is the right time to try and extend our range into a sector of the market that is dominated by German brands. But Cadenza shows clearly how Kia's design-led philosophy under Peter Schreyer is producing startling new products and it is clear from this car that our future new model programme – which starts next year with Venga and the all-new Sorento – is going to continue the dramatic development of our brand in the UK." Of Course, he means BMW, Audi, Mercedes and VW and probably he is right. It is just not the moment to bring this high-tech car in Europe.