Kia CUB Concept Offers Innovations and Style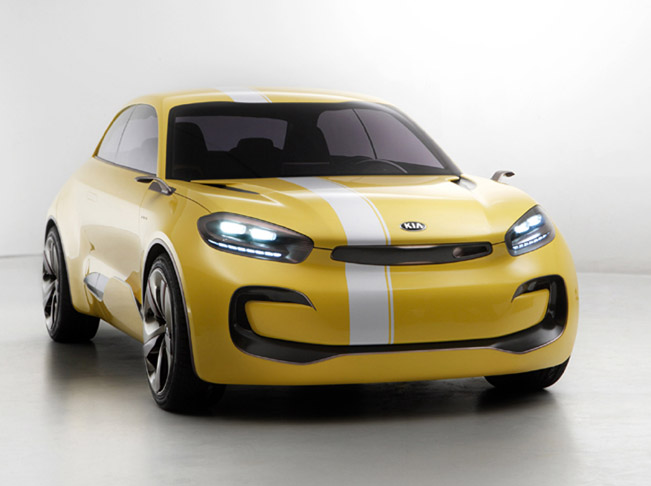 Kia CUB Concept is going to be unveiled at the 9th Seoul International Motor Show today in Korea. The model was designed at company's headquarters studio in Seoul and is less than four metres long, has rearward-opening rear doors and an 'access-all-areas' interior.
First of all, the exterior styling of the CUB shows sleek and small design, but at the same time exudes the cheerful face and a daring character of the concept. The CUB's nose has a broad wrap-around 'mouth' and there is a 'dip' in the top of the windshield – a motif that can be also seen on Optima, Sportage and cee'd models.
In addition, the grille incorporates a turbocharger air intake, which is highlighted in body colour. Furthermore, the headlamps include two-point LED lights. The concept runs on 19-inch alloy wheels and the front doors have aerodynamic 'turning-vanes'. LED tail-lights are to be seen at the rear of the car as well.
Some interesting innovations featured here are for instance the minimum-drag wing mirrors and the automatic touch-type door handles. A two-colour paint finish with sporty stripe hints at the CUB's high-performance potential, while the car's broad track gives it an imposing stance.
In terms of interior, the model offers comfortability and warm ambience. Through the extended utilization of black leather, Kia managed to offer luxurious feel to the occupants. In addition, the sporty character of the model is further emphasized by the yellow colour accents around the seats, door armrests and steering wheel.
At the instrument cluster, the centre-stack design is minimalist with an air vent controlled by touch sensor. For extra safety, the steering wheel rim is capable of monitoring the driver's biorhythms.
Here is also featured DIS (Driving Information System) controller connected to a gesture camera. With well-defined motions, drivers can set up each menu on the centre display.
More importantly the concepts engine is Kia's 1.6-litre GDi (Gasoline Direct injection). The same unit is used in the Kia pro_cee'd GT and cee'd GT. Fitted with a twin-scroll turbocharger and strengthened internal components, the new engine generates 204 hp (150 kW) and 265 Nm (195 lb-ft). The unit is mated to a a six-speed manual transmission. This enables the CUB to accelerate from 0 to 100 km/h in 7.7 seconds and reach a top speed of 143mph.
Source: Kia