Kia ex_Cee'd
Kia's exciting all-new ex_cee'd cabrio concept car will make its world premiere at the 77th Salon de l'Automobiles in Geneva, Switzerland on 6 March. The styling of the ex_cee'd cabrio is the work of new Kia Design Chief Peter Schreyer and gives a first indication of the future direction the look of Kia-brand vehicles will be taking under his guidance.
Based on a pre-production prototype of the new three-door cee'd Sporty Hatch (scheduled for production in December), the ex_cee'd has the same wheelbase, but features all-new exterior panels, sharing only the floor-pan and unseen components with the donor car, plus a powered folding fabric roof.
By adopting a fabric roof, the ex_cee'd deliberately goes against the trend towards cabrios with folding metal roofs. Peter Schreyer paid special attention to designing a classic cabrio with a traditional soft-top roof: "I'm convinced that the fabric roof will have a renaissance. We've all lived with the romantic idea of open-air driving for a long time and for me, metal roofed cabrios are not truly in tune with this emotional conditioning."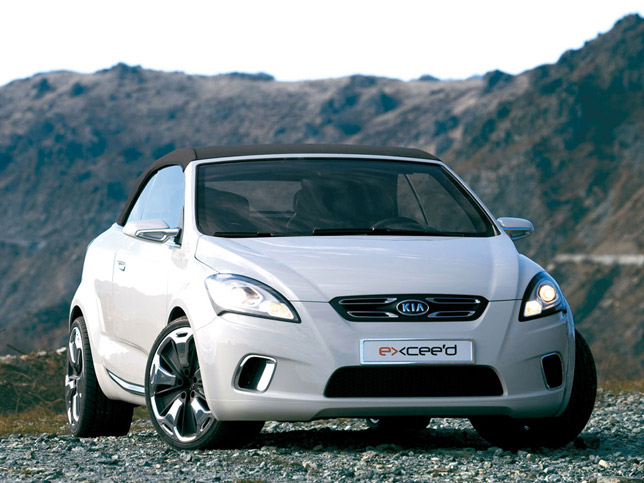 With its slight wedge shape profile, muscular extended wings over 19-inch alloy wheels, and aggressive, dynamic front styling, the ex_cee'd has instantly found a form that stands out from the cabrio crowd. The cabrio concept is finished in 'meringue white' exterior paint with a 'bitter chocolate' fabric roof – colours that are echoed by the interior's two-tone leather.
"With this new cabrio concept car, Kia has once again demonstrated that it is a young, style-conscious company that knows how to combine elegance with dynamics," enthused Mr Yong-Hwan Kim, Senior Executive Vice President and COO Kia Motors. "The Kia ex_cee'd is a fresh aesthetic high-point in our history, an encouraging sign of the growing internationalisation of our brand and a step in the process of evolving into a European company with Korean roots."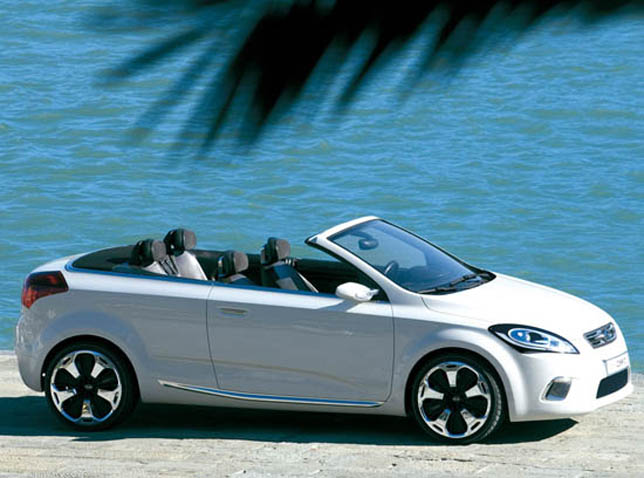 cee'd family marks historic turning point The launch of the Kia cee'd family (five-door hatchback from December last year, five-door Sporty Wagon – from August 2007 and three-door Sporty Hatch – from December 2007) marks a major turning point in Kia's history. The bringing of this trio to the marketplace is the start of a new era. They are the first-ever Kia cars designed and manufactured in Europe and will introduce a qualitative revolution for the brand.
Endorsing the quality of this new model range, Kia is giving all cee'd vehicles a remarkable 7-Year / 150,000 kilometre warranty which is transferable to subsequent owners.