Kia Optima Hybrid Project Superman Shown in Chicago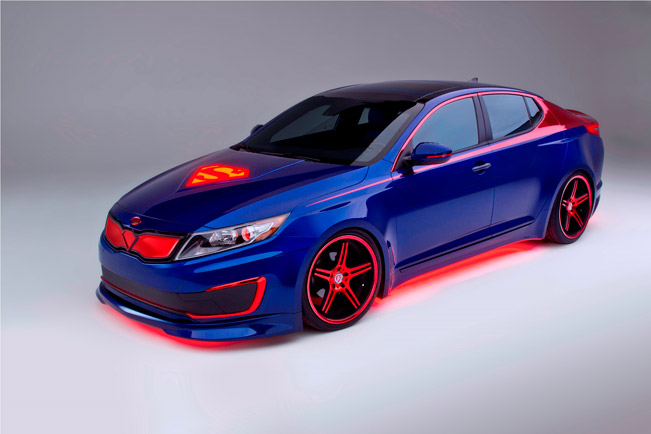 Kia Optima Hybrid Project Superman is a result of the creative efforts of three companies: Kia, DC Entertainment and Super Streetmagazine. The head-turning Optima Hybrid was just unveiled and is created in order to signal the continuation of a 10-month, eight-vehicle-partnership between Kia and DC Entertainment. Those eight vehicles are going to be based on the iconic characters that make up the Justice League – Superman, Batman, Wonder Woman, Green Lantern, The Flash, Aquaman and Cyborg.
The final vehicle will be mixture of all seven Super Heroes in one. Justice League-inspired Kia vehicles serve as a force for good in the world by raising awareness of DC Entertainment's "We Can Be Heroes" giving campaign. The latter is a relief effort to bring help and hope to people affected by drought and famine in the Horn of Africa.
This one-of-a-kind Superman inspired Kia represents the strength and fortitude of the world's most iconic Super Hero. In order to do that, the car was widened with custom fenders, which makes it now even more muscular. In addition it includes an adjustable suspension system that can raise and lower the vehicle with the push of a button.
The exterior color-theme of the vehicle strikes immediately: a stylized color scheme on the hood spotlights Superman's unmistakable chest emblem while an eye-catching red paint design extends to the trunk, evoking the look of his crimson cape. The beveled front grille is there to remind us of Superman's belt, and the red headlights glow with the same intensity of his heat vision.
Next, the interior of this Optima is wrapped in custom materials chosen for their unique appearance and texture. Again they reflect Superman's impenetrable battle armor. The iconic "S" shield is integrated into the seats and steering wheel to give it the right heroic touch.
As Kia's sales have grown, so has the company's role as a responsible corporate citizen, and the Superman-themed Optima furthers those efforts with two video screens in the front-seat headrests that will raise awareness about the worst hunger crisis in 60 years by featuring a custom "We Can Be Heroes" video that demonstrates how one small act can make anyone a hero.
Source: Kia