Kia Reveals Unique Justice League Car At Comic-Con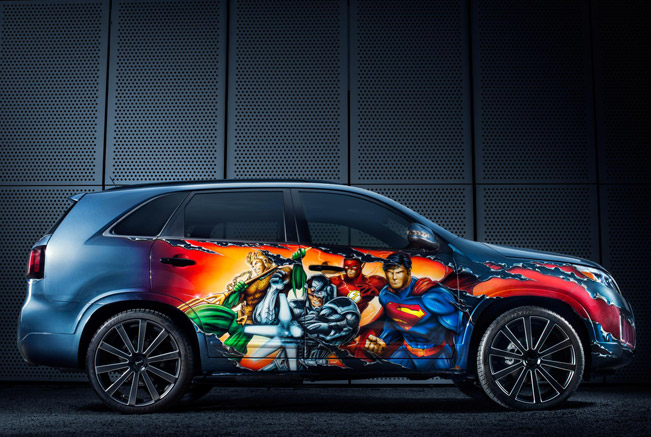 Comic-Con has just started, taking place in San Diego. There was revealed the artistic Justice League-inspired Kia Sorento, which is the eighth and final custom vehicle built as a result of the partnership of Kia and DC Entertainment.
The car has a stunning design which was penned by legendary comic book artist and DC Entertainment Co-Publisher Jim Lee. The car is part of the campaign "We Can Be Heroes" which aims to raise awareness fight the hunger crisis in the Horn of Africa. Up to date there has been raised over $2.3 million and helped over 5 million men, women and children there.
As part of this campaign Kia and DCE created a collection of all eight Justice League-inspired Kia, which will be shown at the Comic-Con at the Interactive Zone at Petco Park. Furthermore, the newly revealed Justice League car will be part of a special online charity auction on eBay which benefits the "We Can Be Heroes" campaign.
As a matter of fact, the seven-seat Sorento marks the final chapter in a 10-month, eight-vehicle partnership between DC Entertainment and Kia based on the iconic characters of Justice League: Superman, Batman, Wonder Woman, Green Lantern, The Flash, Aquaman and Cyborg.
Each one of them has been featured with a special car, designed by Lee. This final car catches the entire Justice League. Jim Lee's artwork has been hand-painted via custom air-brushing by the world-famous West Coast Customs.
Like all of the Justice League-inspired vehicles this customized Kia Sorento mixes the automotive and pop-culture worlds. In addition, it also allows Kia to extend its philanthropic efforts.
Source: Kia