Wonder Woman Kia Sportage Adds To The We Can Be Heroes Campaign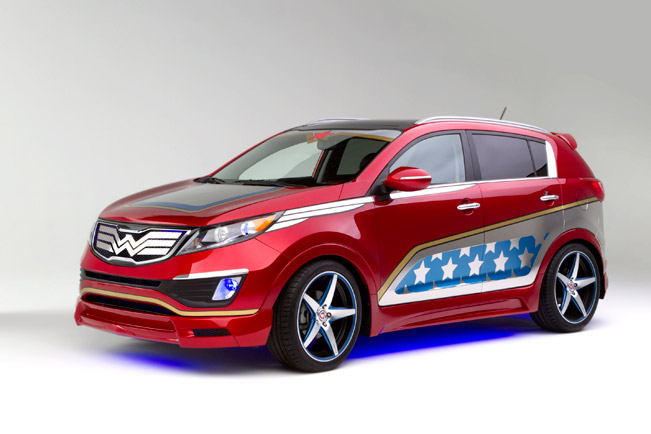 The collaboration between Kia Motors America and DC Entertainment and Super Street magazine is further taking strength through the reveal of the unique Kia Sportage Wonder Woman. The model is by the superhero's Wonder Woman, her power and the big sense of equality.
The model was unveiled today at the 2013 New York International Auto Show. The vehicle is a continuation of a ten-month, eight vehicle partnership between Kia and DC Entertainment based on the iconic characters that make up the Justice League – Superman, Batman, Wonder Woman, Green Lantern, The Flash, Aquaman and Cyborg.
The Batmobile has already been revealed and we are expecting the other six vehicles with great anticipation. The final car will be an amalgamation of all seven Super Heroes in one. The Justice League-inspired Kia vehicles serve means to raise the awareness for DC Entertainment's "We Can Be Heroes" giving campaign. The latter is an effort to bring help and hope to people affected by the hunger crisis in the Horn of Africa.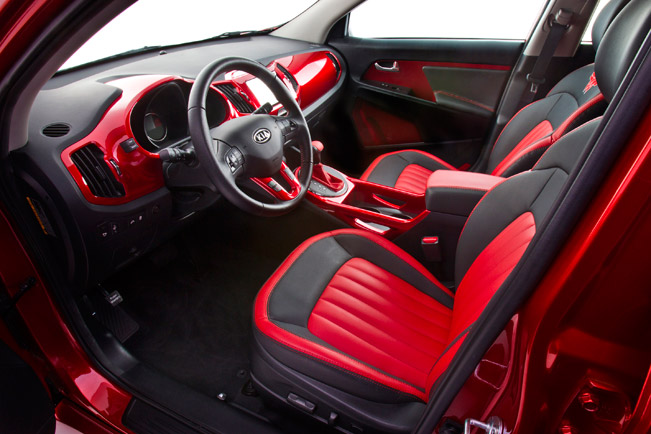 The Wonder Woman-inspired Kia Sportage includes sleek and stylish visual attributes thanks to an aero kit. The red and blue exterior color scheme, accented with stars resembles Wonder Woman's outfit. On the other hand the gold trim wrapped around the vehicle represents her weapon of choice – "The Lasso of Truth".
Heroine's eagle chest-plate emblem can be seen onto the production grille and is flanked by blue headlight beams. The windshield of Sportage features a banner that portrays Wonder Woman's tiara, and the chrome side panels on the vehicle are graphical interpretations of her invisible jet. The exclusive car runs on five-spoke wheel design which perfectly links the stars on the exterior of the vehicle.
In terms of interior, one can see red upholstery and dash pieces combined with blue LED lighting. The custom seats were embroidered with heroine's logo, while the cargo area of the vehicle is adorned with stars and an eagle and features a see-through panel, which displays Wonder Woman's tiara, bracelets and glowing Lasso of Truth.
Source: Kia