Kia Unveils Cross GT Concept In Chicago [VIDEO]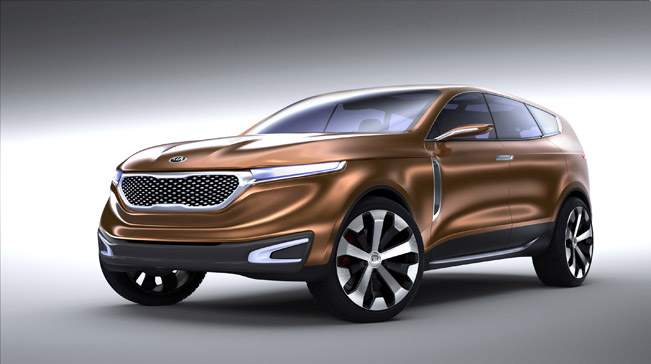 Kia Cross GT Concept that has been teased a week ago made its official debut at the 2013 Chicago Auto Show. Cross GT has elegant but powerful stance, mixes high technology with nature. This concept shows Kia's intentions to offer a larger premium SUV than the current Sorento.
The Cross GT is based on the GT chassis, its proportions are similar to its rear-wheel-drive stable mate with short overhangs, a long wheelbase and an aggressively wide posture. However, the new concept SUV offers even greater visibility due to its taller stature and the all-wheel drive for improved performance and all-weather capability.
The exterior color is decided in Fusion Copper, which links the vehicle with the inspiration-from-nature that the designers had. Furthermore Cross GT is powered by a hybrid powertrain: 3.8-litre V6 hybrid unit mated with an 8-speed automatic transmission. It also is equipped with a pancake-shaped electric motor positioned between the V6 and transmission.
Combined, the V6 and electric motor produce 500 lb/ft (678 Nm) of torque and 400 horsepower (295 kW), with an all-electric range of 20 miles.
The powerful visual appearance of the concept is due to the unusual proportions: 122.0 inches (3099mm) wheelbase, overall length of 192.8 inches, 79.1-inch (2009mm) width, and overall height of 65.3 inches.
Other highlights include the LED technology that makes the highlights more dramatic, and a multi-panelled sky light with hexagonal glass inserts that improve the Cross GT's premium design aesthetic.
Video Source: YouTube
Source: Kia