Lamborghini Aventador LP988 Edizione GT by DMC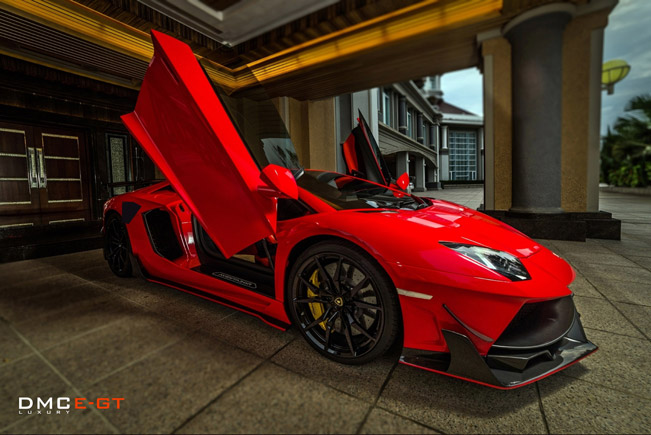 Lamborghini Aventador LP988 Edizione GT by DMC looks breathtaking not only because it is a Lambo or it has this vibrant red exterior paint, but also because it was refined to the tiniest detail. The German super-car tuner DMC has added to it a package which is dubbed the Edizione-GT or simply E-GT. And despite the conversions, the car is completely street legal. The major work has been done on the body kit and the engine. The exterior has been painted in a special two tone color, and there have been also added a set of forged alloy wheels. The tuning also includes an interior make-over.
To go into details, the body kit comes with new front and rear bumpers, as well as an engine-bonnet replacement that includes a motor cooling air-scoop. There are also new side skirts. Furthermore, the package is defined by the presence of a massive GT-Spoiler that can be manually set to 3 different angles for different aerodynamics.
The package is completed with a full array of tunnels, flaps and diffusers. If you take a look at the pictures (gallery is featured below), you will then see that a lot of carbon fiber has been used for the aforementioned elements. This will definitely save a lot of the weight of the Anentador.
Furthermore, the LP988 has been subject to a Twin-Turbo procedure in combination with a reprogrammed ECU. Now data has been released about the figures, but we are sure that the power improvement will be great. A set of forged alloy wheels and a new kit of suspensions keep the beat on the road and make the Lamborghini stand out further.
At last, the package is finalized with exclusive interior refinements. Inside, one can see Italian fine leathers and of course, a lot of carbon finer. There are plenty of buttons and trims, which are available as a small package. The steering wheel has been also redesigned and adds on to complete a medium package. At last, the whole interior can be redone for the VIP package.
Another interesting fact about this package is that it can't be just purchased, but it is a limited edition. This means that if you want to can get one you have to first apply before being able to buy. Each unit is strictly limited to only one colour and/or style, making every one of them unique.
Source: DMC