Lamborghini Huracan by Print Tech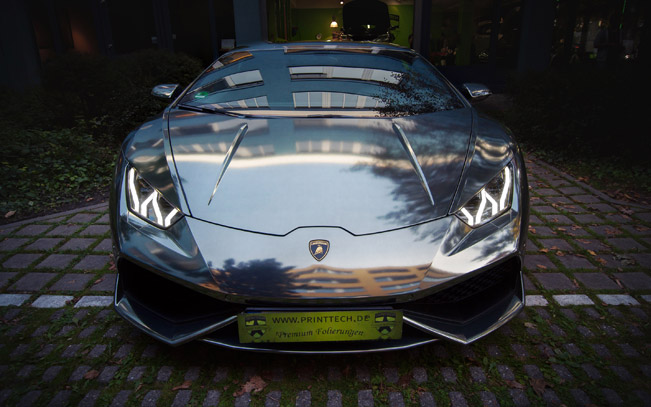 Print Tech Lamborghini Huracan is wrapped in a special Centurion Black Chrome foil. The complete car wrapping is a result of the work of the specialists at Munich Print Tech company. What happened with a Lamborghini Huracan is that it got an absolutely professional application of complete wrapping type "Centurion Black Chrome". And as you can see the bolide has experienced a marvelous metamorphosis that has given this Lambo the ability to shine in a really other light.
There are many benefits of this technique. The first one is of course protection, the second is the fact that the car can be transformed into its original state without any problems and at any time. And at last, but not least – even the most eccentric color attracts envious glances.
No other modifications have been made to this vehicle, so it keeps its production characteristics. To remind you, the 2014 Lamborghini Huracan LP610-4 is driven by a 5.2 liter V10 engine, which produces 610 horsepower (448 kW) and 560Nm (413 lb-ft) of torque.
This allows the Huracan to accelerate from 0 to 100 km/h in 3.2 seconds and from 0 to 200 km/h in 9.9 seconds, on its way to a top speed of 325 km/h (202 mph). The model also has an engine start/stop system that ensures an average fuel consumption of 12.5 L/100km (18.8 mpg US / 22.5 mpg UK) and CO2 emissions of 290 g/km. The engine is connected to a 7-speed dual clutch transmission and an all-wheel drive system.
Source: Print Tech