2014 Lexus IS With Included Advanced Technology Pack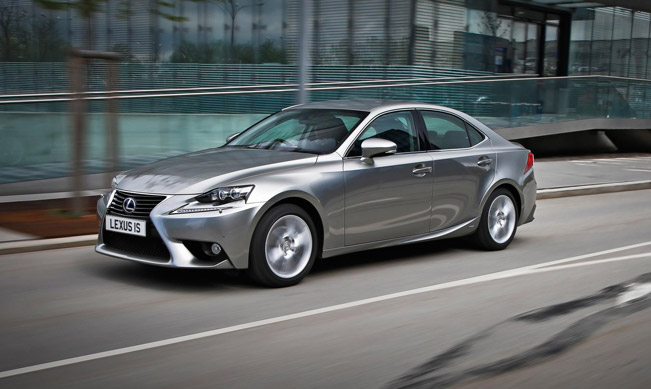 2014 Lexus IS is now going to be equipped with even more advanced safety features and driving aids thanks to the introduction of an additional option pack. The latter will be exclusively offered for the flagship Premier versions of the new IS 250 and full hybrid IS 300h.
To be more precise, it consists of the following four enhancements: Pre-Crash Safety system (PCS), Adaptive Cruise Control (ACC), Lane Departure Assist (LDA) and Automatic High Beam (AHB). The first system – the PCS system utilizes a millimetre-wave radar sensor which works over a 20-degree scanning radius in order to find obstacles in the vehicle's path, even when cornering.
In addition, the PCS uses several sensors, a pre-collision computer monitors vehicle speed, steering angle and yaw rate inputs. This helps in the earlier determination of an impending collision.
For instance, if there is a high risk of a collision, this system alerts the driver immediately with a buzzer and warning on the multimedia display. Simultaneously it activates the Pre-Crash Seatbelt pretensioners, and when the driver begins to brake, it additionally provides Pre-Crash Brake Assist. And in the cases when the driver does not brake, then the Pre-Crash Brake automatically applies the brakes to reduce the impact speed.
The other feature is the Adaptive Cruise Control which works in two modes: constant speed control and vehicle-to-vehicle distance control. The first mode operates at speeds above 31mph (50km/h), and it is as a conventional cruise control system.
The second mode has the ability to differentiate between vehicles directly ahead, and those in a lane in the vicinity. It utilizes the PCS millimetre-wave radar sensor at a constant speed, as well as decelerator, follow-up and accelerator controls. They work in terms of slowing the Lexus, matching its speed in front and, and once the road ahead is clear - accelerating back to the previously selected cruising speed.
The Lane Departure Alert system on the other hand monitors road markings via a camera mounted on the rear-view mirror. The camera can detect if the 2014 IS is deviating from its lane without the turn signals being used. Then it signals by sounding a buzzer and showing a warning on the instrument display.
At last, the Automatic High Beam function for the headlamps enhances the night-time visibility by automatically switching to low beam when the system's camera detects the lights of an oncoming vehicle or one travelling ahead.
Source: Lexus