Lexus LFA Goes Pink in Support of Brest Cancer Awareness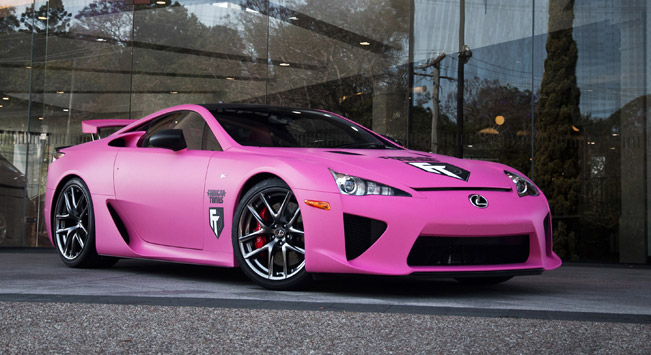 In support of the National Breast Cancer Awareness month this October, Lexus of Brisbane decided to go pink. In brand's showroom and the dealership in the city can now be seen the $700 000 LFA Supercar painted in the emblematic for the cause pink color.
As a matter of fact, the Brisbane-based LFA will be the only pink version which will appear in Australia, and most possibly - in the world. Of course, as we all know, the model is unmatched in its track-focused performance and hand-crafted quality.
Being a true LFA it has innate great speed and handling. In details, the car is equipped with the 4.8-litre V10 engine, form which it draws maxim power of 562 hp (420kW). This means that the LFA accelerates from 0 to 100 km/h in only 3.7-second. The tops speed is 202 mph (325 km/h).
The engine has forged aluminum pistons, forged titanium connecting rods, and solid titanium valves. The 4.8 litre V10 unit was especially created for Lexus LFA with collaborative partnership between Toyota Motor Corporation and the Japanese specialist engineering company.
Lexus of Brisbane dealer principal Andrew Scifleet said that about this initiative the following; "Along with donations, auction items and support of the Fainga'a Twins Charity Golf Day, going pink is our way reminding all of Brisbane that October is the month of Breast Cancer Awareness."
Source: Lexus