2015 Lexus NX Redefines SUV Design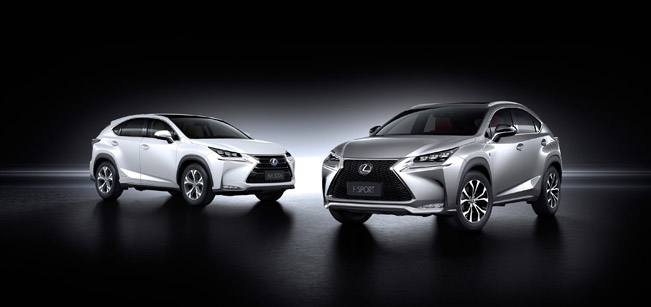 Lexus is redefining SUV's design with its new NX, which has characteristics more typical to sportscars than slab-sided 4x4s. The model has muscular curves and agile angles that perfectly exemplify the development of Lexus's L-finesse contemporary design language. The exterior features a low, sloping roofline, a cab-forward silhouette and flared wheel arches. The defining bodywork lines flow directly from the signature Lexus spindle grille.
One of the most striking features of the exterior of the car is that it looks like made from a single piece of metal. Lexus actually poured molten metal over the die. The next thing that grabs the attention is the grille flanked by new LED headlamps and daytime running lights. This forms the distinctive "face" of the NX.
Furthermore, the C-pillar has a wide angle to optimize internal storage width. The crouched look is linked to the NX's good ramp-over angle performance, while the high point of the roof ensures more headroom for rear passengers.
The design of the exterior is also made in such way so that it can achieve the perfect balance between distinctive design and aerodynamic efficiency. The rear spoiler ensures smooth flow of air away from the back of the vehicle. In fact, the extensive wind tunnel testing revealed that the best results came from giving the leading edge of the fin an upturned lip.
The door mirrors and handles have air-cheating design. It features concealed key barrel and integrated single-LED illumination. Beneath the car, away from the direct sight, the designers added undercovers and spats to deliver clean airflow.
Inside, the cabin offers ample space for everyone. Its front-to-rear couple distance of 962 mm and the high roof design provides exceptional head clearance. What is more, the rear knee room is even greater than in some larger SUV models.
More space is also offered in the luggage area. The maximum loadspace width is 1,347mm. More storage space is accessible under the luggage board, taking the total luggage capacity to 555 litres in hybrid versions and 580 litres in the turbo petrol.
There are also various storage points around the cabin. For instance such are the glove and console boxes, a console tray, utility box, sunglasses hold, cup holders and door pocket holders for half-litre bottles.
The new hybrid NX 300h will be available for order now. Next year Lexus will introduce the NX 200t model, which will adopt Lexus's new 2.0-litre petrol turbo engine.
Source: Lexus