Lexus offers turbo or hybrid power in new 2015 NX crossover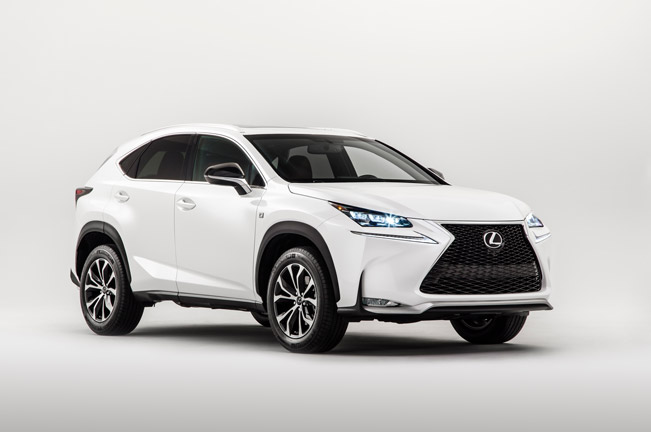 Lexus, the luxury vehicle division of the acclaimed Japanese car maker Toyota, has presented the NX compact luxury utility crossover that has a rather tough task ahead of it – to capture market share for the company in the growing market segment of such vehicles.
So far Lexus has presented two NX models only. The NX 200t comes with a turbocharged 2.0-liter four-cylinder gasoline engine while the NX 300h is a hybrid model that brings the number of Lexus hybrid offerings to six, the most among luxury brands. As expected from the famous luxury car maker both models come with tons of new and advanced technology and a number of tech innovations that you will get to enjoy while driving a new Lexus NX vehicle.
It is really hard to count all tech improvements that you will find in the new Lexus NX line but we will try to list them here anyway. To do so we will start with the company's first ever turbocharged 2.0-liter gasoline engine. It comes with turbocharged ports and direct injection technology as well as an advanced valve control system that allows the engine to switch between Atkinson cycle and Otto cycle operation for more flexibility and improved fuel efficiency. Turbo lag has been minimized as well thanks to the implementation of a four-into-two exhaust manifold system that reduces pumping losses and eliminates exhaust gas interference. Thus the 2.0-liter gasoline engine produces 235 hp at 5600 rpm with 258 lb.-ft. of torque from 1650 – 4000 rpm. A balance shaft also enhances smoothness but there's more to the engine – the integrated D-4S fuel injection system provides the optimal mixture of fuel and air to realize highly efficient rapid combustion at all times. In addition to that Dual Variable Valve Timing with intelligence (VVT-iW) optimizes torque throughout the engine speed range.
The NX 200t comes with Lexus' proven all-weather drive (AWD) technology and Dynamic Torque Control for maximum fraction and cornering stability. This system constantly controls torque transfer between the front and the rear wheels by using sensors for vehicle speed, steering angle, steering speed, yaw rate and throttle angle. Depending on how you drive, the system uses front-wheel drive during normal cruising. When needed, though, it can automatically engage AWD through an electromagnetically controlled coupling that directs up to 50 per cent of available torque to the rear wheels. Dynamic Torque Control on the other hand helps the driver bring back the vehicle to the intended drive line.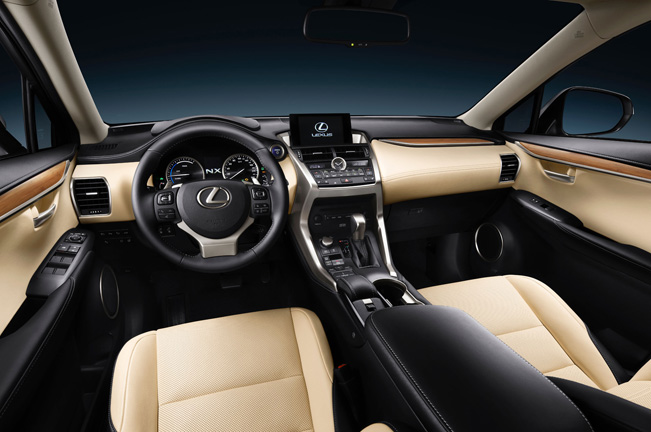 Turning to the NX 300h we will see that the new luxury crossover comes with hybrid power and a finely-tuned 2AR-FXE 2.5-liter gasoline engine. This engine comes with some new technology inside so expect to find a water-to-oil cooler for the electric drive motor and a revised front drive reduction ratio that improves both fuel economy and hill climbing. The 2AR-FXE 2.5-liter engine is connected to the new P314 transmission that provides a kick-down function for greater acceleration performance and sequential shift for maximum power to be delivered on demand and increased engine braking when decelerating. Speaking of this the NX 300h comes with Lexus' electronically controlled braking system, known as ECB-R in order to provide cooperative control of stopping power and regenerative braking while saving on vehicle weight.
Every hybrid car comes with batteries and the Lexus NX 300h is not an exception. The luxury crossover has two batteries with each one weighing 44 lbs. They are located on each side of the rear seat, improving space efficiency and also center of gravity for enhanced car control.
Although both models are different in many departments they also share quite a few common features. Thus they all come with an all-new sequential six-speed automatic transmission for achieving an ideal level of boost pressure for performance and fuel economy. The G-force Artificial Intelligence (G-AI) system provides more spirited driving and automatically selects the optimum gear and downshift pattern in response to G force.
The Lexus NX line will also treat you with MacPherson strut front suspension with high-rigidity components and low-friction moving parts. Low power consumption LEDs for front and rear lights boost the car energy efficiency while high-grade daytime running lamps (DRLs) create distinctive L-shaped light. Lexus also offers an entirely new color for the NX line – Eminent White that creates a metallic-like finish as well as five choices for interior trim, folding rear seats, power liftgate, premium audio technology and more.
Right now it is not clear when you will be able to see the new Lexus NX line at a dealer near you but likely the new crossover will debut by the end of the year. No word on pricing either.
Source: Lexus