Lexus Releases All-New NX 300H SUV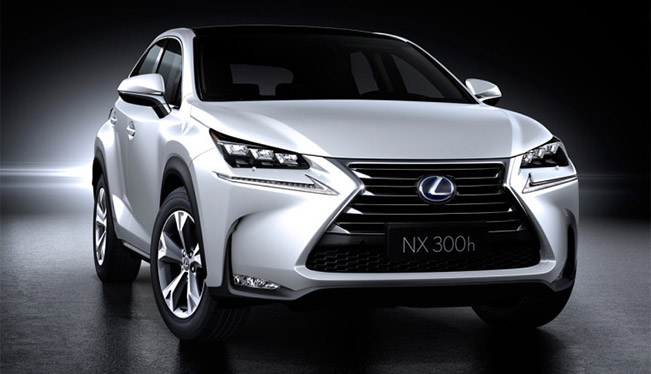 They say bad things come in threes, and maybe good things come in twos for Lexus debuts with a new model in two versions: the NX 200t with a turbocharged 2.0-liter four-cylinder engine and the NX 300h hybrid. Yet, the focus of this article falls on the latter version.
The NX 300h hybrid conquers the world with its quite sporty persona and excellent fuel efficiency. One of the most startling features of the SUV is the innovative design. The style is a cutting-edge compilation of edgy body creases and pointed outlines which transform the vehicle into something really distinguishable and like nothing else on the market. In combination with its truly distinctive look, the crossover utility vehicle enchants even more with the metal-like shades which accentuate it on the outside.
What else does The NX 300h offer apart from the obvious sharply angled bodylook? The hybrid model features Lexus Hybrid Drive with an Atkinson cycle 2.5-litre four-cylinder petrol engine that produces 235 HP and 258Nm of torque. Moreover, the new Lexus SUV adopts sprung-weight damping control in order to increase ride comfort and other suspension improvements for better handling and stability. Additionally, the new Lexus uses just 5.6-litres per 100km and emits only 131g of CO2 per kilometer.
Many of the attributes of the SUV are optional on some of its rivals, including smart entry and start, 10-speaker audio with digital radio, reverse camera, satellite navigation, power tailgate, Enform connected mobility, tyre pressure warning sensors, 18-inch alloy wheels, 60:40 rear-fold seats and a spare wheel. Finally, this becomes the first hybrid powertrain in its class that offers and rear cross traffic alert in its range.
Interestingly enough, as Sean Hanley, Chief Executive, Lexus Australia, says that; "When designing the all-new NX, the engineers and designers wanted to offer consumers something unique - something that stood out from the crowd and offered innovative on-board technology while meeting the practical requirements of SUV customers."
Source: Lexus