LIGHTWEIGHT BMW X4 is Dressed to Impress

LIGHTWEIGHT tuner has set its eyes on BMW X4. Thanks to the professional team, the crossover-SUV is "dressed to impress". The car has gained optimized and more exciting look and can now demonstrate stronger driving dynamics.
The performance improvements are done with the help of an extra control unit that guarantees 365 HP (268 kW) with a peak torque of 690 Nm. Another way is through field boost which delivers even more horses, precisely 375 HP (276 kW). Torque rates are increased to 700 Nm. Finally there is a Vmax-increase up to 280 km/h.
When we observe the tweaked BMW X4 from the outside, it looks more powerful than ever. The dark frozen gray finish makes the car look sleek, stylish and ready to rock n' roll. In order to ensure optimal protection of this Bavarian beast, the tuning company has wrapped the car in ceramic two-component solid filling. It is applied on the discs too. The exterior is complimented by LIGHTWEIGHT-carbon fiber mirror covers, spoiler and rear apron insert. Black gloss or carbon fiber front spoiler is also part of the highlights on the outside. There is a Hartge-Classic 2-wheelset in 9.5x21. It comes with Michelin PilotSuperSport in 245/35-21 at the FA and in 10.5x21 with 265/30-21 at the RA. The wheelset is protected with four component permanent sealing. 30 mm lowering is available too thanks to the in-house suspension with Bilstein-parts.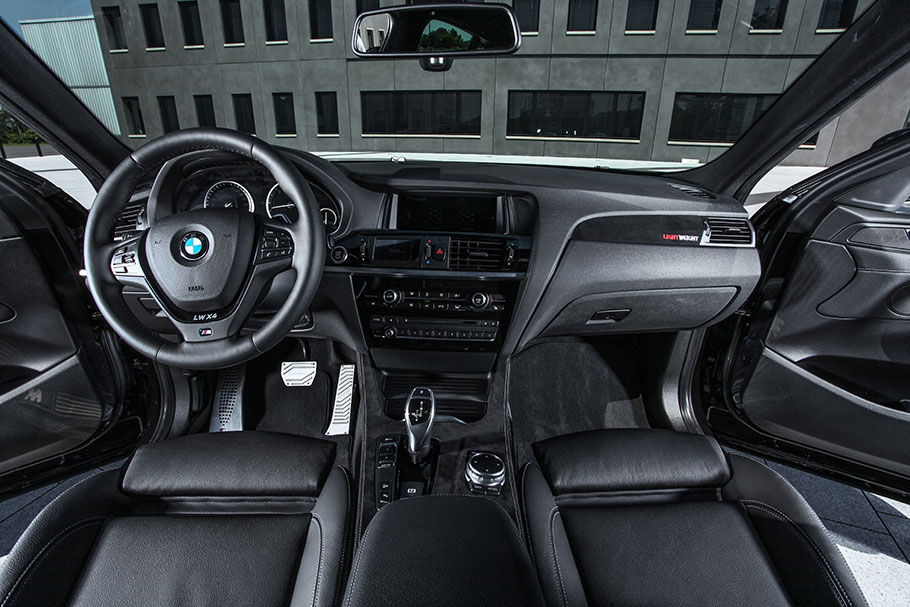 Interiorly, LIGHTWEIGHT BMW X4 consists of black alcantara. A LIGHTWEIGHT-logo adorn the velour floor mats while the center console stands out with double contrast stitching. There are aluminum pedals and LIGHTWEIGHT-auxiliary display contributing to the good-looking interior of the vehicle.
The car is priced at 88 000 Euro.
Source: miranda-media.de